BY MARIELLE D. MARNE | JUNE 3, 2015
Need custom gates? Want a fire pit? How about painting? Call Garrett's Handyman for it all!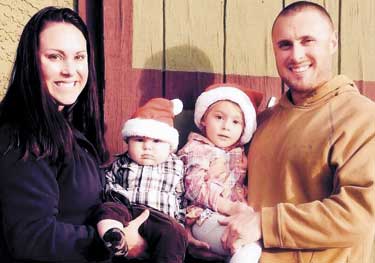 CAVE CREEK – As a former Marine, Justin Garrett of Garrett's Handyman & Remodel Solutions, tackles any task with military precision. His clients notice and appreciate his detail-oriented background. "He is amazing with his hands," offered Justin's wife, Haley, who handles the admin side of Garrett's Handyman. "He can do anything, and if he's not sure, he talks to experts and researches on his own."

Garrett's Handyman was founded in February following several tours of duty in Iraq and Afghanistan. The transition was natural given Justin has done home remodels on the side since 2007. Haley explained, "For years our friends would ask when we were going to start our own business." Luckily for everyone in north Phoenix who is less than handy, the Garretts did! Ever since then, Justin has been steadily busy.

When they advertise that no job is too big or small, Justin and Haley mean it. Justin installs fans, fixes sinks, tiles and even excavates. Currently, it seems outdoor kitchens and BBQs are in demand. Justin will weld and he has requests from horse people to make welds in stalls. They have a tractor and a dump trailer, so Justin can do farm property maintenance, too! Haley encourages folks to ask to see if they can do a job. If they can't, they won't leave their neighbors hanging, they will use their resources to find someone else who can help. It's the can-do attitude the Garretts have that has frequently turned small jobs into big ones. Clients love that one person is reliable and can do so much.

Additionally, Justin and Haley take the time to listen to what customers want, not what they think they need. "We respect clients' money, because we know it's hard to come by, so we listen and we never cut corners," Haley said.

If you want to spruce up your home, see www.facebook.com/garrettcontractingLLC for ideas. Remember, estimates are free and pricing is competitive. The Garretts love meeting people and are eager to help when and where they can. Call 480-600-6605 to see how the veteran owned and operated Garrett's Handyman & Remodel Solutions can assist you!