BY LINDA BENTLEY | MAY 27, 2015
Verizon seeks new cell sites to meet increased demand for capacity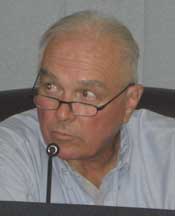 CAVE CREEK – Since council removed Vice Chair Eileen Wright from the planning commission on May 18, the commission unanimously elected Commissioner Bob Voris (r) as vice chair with Commissioner Bruce McNeil appearing telephonically.

The commission discussed whether or not the commission should hold a meeting in June.

Commissioner Dan Baxley recommended going on hiatus for the next three months, noting anyone newly appointed to the commission could use the extra time to get up to speed on the general plan, which he said was no small task.

Some commissioners also indicated they would be unavailable.

Voris suggested they see how far they get with the general plan that evening to determine whether or not they needed another meeting.

The first item on the agenda, however, was for a special use permit for two 30-foot tall Verizon faux saguaro cell towers and equipment on property owned by Mike Kane on Seco Place.

Baxley asked staff who brought the item forward, the property owner or Verizon.

Associate Planner Luke Kautzman said it was brought forward by Wavelength Management on behalf of Verizon.

McNeil questioned the 30-foot height and said he was under the impression the town ordinances limited height to 25 feet and asked if there was an issue with coverage in the area.

Kautzman read the section that allowed for chimneys and other features, including antennas, to be 30 feet tall, which he said was addressed in the criteria section.

He stated the applicant was present to answer any questions.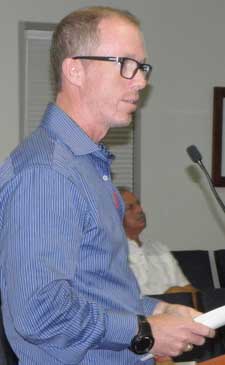 Rob Jones (l), wireless facilities developer with Wavelength, stated the new equipment was necessary to fill a significant gap in service.

He said the biggest problem with the current sites is capacity, not coverage.

According to Jones, it starts becoming critical when service hits 5 megabits per second (Mbps) and currently the Rockaway site is at 2.4 Mbps and School House is at 3.5 Mbps.

Jones cited challenges in the area as lack of commercial property and considerable topography.

He explained the difference between capacity and coverage and said the increased demand for data has created the need for increased capacity.

Jones said the site was selected because the property provided the least obtrusive location with the equipment sitting in a depression and would be painted to match the vegetation.

Voris, looking at the site plan, said the topography indicated the equipment would be visible.

Baxley asked if there was screening around the generator and if it could be lowered.

Jones stated air flow is a consideration and if the equipment is enclosed in a building it will have a much bigger footprint.

Voris stated there are noise attenuation devices.

Jones said the generators only come on about two times per month and otherwise only come on when the power goes out.

He said they are the loudest on startup at around 90 dB but then reduces down to a lower level, although he wasn't sure what that level was.

Baxley confirmed the enclosure Jones mentioned was the manufacturer's enclosure and asked if he was willing to enclose the generator and reduce the dB level to specific limit.

Jones said he was.

Voris asked why that location was selected for the generator and not a location closer to the house.

He said it was close to the road for easy access for fueling and maintenance but they could look into moving it.

Jones said, "I think my client can live with that."

Baxley stated he had a level of discomfort and needed to have better information.

He said, "We've had wars in this town over noise. I need something more to work with here."

Jones stated the location selected was the best location to provide the best service by Verizon and said, "As far as doing a redesign, I'd rather do a redesign than get denied."

McNeil asked if the towers were putting the residents at any kind of health risk from microwave radiation.

Jones responded by saying Verizon uses FCC approved standards and this was well within those tolerances.

He also said this was radio transmission frequencies, not microwave, which is more concentrated.

Jones said the radio frequency transmissions are all federally approved and cannot be denied based on perceived health risks.

Smith asked staff if they could come up with recommendations so the commission could make a decision.

Kautzman stated the zoning ordinance requires the screening of outdoor equipment from neighbors.

During public comment, Martha Arnold handed out aerial maps to the commission, said she was directly across the wash from the property and asked why they selected this location in a nice quiet neighborhood.

She said the noise concerned her because every time it rains she has a loss of power.

Arnold said she didn't want to have to look at artificial cactuses every day and was opposed to the noise.

Arnold indicated the faux saguaros would be eyesores unless they were "designed by geniuses."

Anna Marsolo said any cellular provider should have to prove their coverage need.

She stated Verizon said there were coverage problems north of Fleming Springs and towers were installed at Lil' Bit North Ranch.

Marsolo went on to say there was no claim of coverage issues south of Fleming Springs.

She said cell towers have a negative impact on real estate values, asked the commission to recommend denial of the application and to determine legitimate needs.

However, Marsolo confirmed the applicant's statement that the town cannot deny cell tower applications based on health reasons/radiation exposure.

Marsolo read two letters into the record from neighbors who also opposed the application and said, "Commercial structures have no place in this area."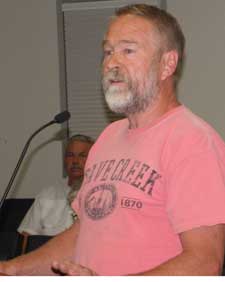 Mike Kane (r), the homeowner of the proposed Verizon site, said he didn't seek this out, they came to him.

Kane said when he was building his home he lived in a trailer on the property and ran a generator, sometimes two, every day, all day long for nine months.

He said no one ever came by and complained about the noise.

According to Kane, only his neighbor can see the cell towers, or his flagpole, when standing in his driveway looking in that direction.

Kane said he would prefer plantings to screen the equipment rather than a structure.

Skyler Hadden said he owned the property directly to the west of Kane's and stated, "I'm OK with it."

Greg Hanchett, who owns property next door that he leases out, said this was the first time he heard about the generator and stated, "I've never lived in the house. My tenants will not tolerate the noise."

He said it would substantially devalue the amount of rent he could charge.

Fred Osmond said he lives on a hill and can probably see the site from somewhere.

Osmond said he thinks Planning Director Ian Cordwell and his staff should come up with some kind of master plan and some rules.

Addressing the public's comments, Jones said noise seemed to be the biggest concern and suggested setting a condition that the dB level not exceed whatever the limit is from the property line.

He said the location was selected because it doesn't have CC&Rs, it's on a hill and because of its undulating terrain to better hide the equipment.

Jones reiterated the towers weren't for coverage but for capacity and data.

He also said, "These are designed by geniuses," and noted the location was on a dead end.

Voris moved to recommend approval and addressed some of the written correspondence that was submitted.

He said undergrounding is not applicable, the height is allowed and radiation is nothing they can deal with.

As far as aesthetics and property values go, he said he watched construction of the towers at Lil' Bit North Ranch with his binoculars and after watching for some time he thought they didn't end up building.

He later learned they did install faux saguaro towers and said, "I cannot pick them out."

Voris said there was no way the neighbors were going to see this and pointed out there were public utilities throughout the town with power poles on both sides of the road as well as water tank sites.

However, he did want to make a provision in voting for the application to require the generator to comply with town code noise levels or attenuated so that it does.

Bryda, who seconded the motion, said he had no problem with the faux cactus but he did have a problem with not knowing what the noise level is and said he couldn't support the application without that data.

McNeil said he was torn between necessity and public safety and said he would still like to have a better understanding of exposure to radio frequency transmissions and sleeping next to them.

Baxley asked staff what the dB level needed to be at the property line.

Kautzman said it is 75 dB.

Baxley said he was going to support the motion, stating, "We talk about the future of Cave Creek being a great place to live."

Baxley said he understands the concerns about aesthetics of the equipment but said he was unable to find the faux cactus at the library and asked to make a friendly amendment.

He suggested the equipment be no higher than six feet and the generator noise level be no higher than 75 dB maximum at the property line.

Both Voris and Bryda accepted the amendment.

Smith said there was not a lot of new stuff for him to say but stated, "I don't see how a faux saguaro can be more offensive than power poles and lines on both sides of the street."

The motion passed by a vote of 4-1 with McNeil dissenting.

Because the first agenda item dragged on for two hours, Baxley suggested waiting until September to hold the next public hearing on the general plan.

He asked staff if they could incorporate the comments and suggestions into the plan sequentially.

Cordwell and Kautzman indicated they could.

Baxley then moved to continue the public hearing to the Sept. 17 planning commission meeting.

Smith asked if they could hold a workshop first.

Voris recommended they hold it during the day.

Prior to adjourning, the commission voted unanimously to schedule a workshop at 9 a.m. on Sept. 10.

After adjournment, Fred Osmond, who came to speak on the general plan, became irate. He asked the commission, "How can you do this?"

Osmond said this was the second time in a row when he came to speak on the general plan and the meeting was either canceled or continued.

Last month when he came to speak the commission lacked a quorum and couldn't hold a meeting.