MAY 20, 2015
Obituaries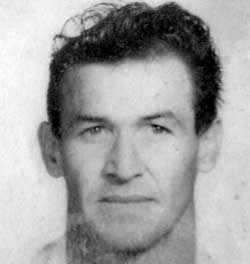 Frank Barathy

The passing of Frank Barathy was on January 8, 2015.

Frank was born in Hungary on May 28, 1927. This picture is the one from his ID card he carried since arriving in the United States on January 27, 1957. Funny that through all his winding paths and adventures, he kept a tight hold on this one thing. It was so important to him and he truly loved America.

He truly was a fixture of our town of Cave Creek. Everyone knew "Frankie the hat" "Frank the Hungarian" and "Frankie and his faithful dog Cody."

Frank is greatly loved by his children: Frank and Frances, Lynnette, Lyle and Lisa.

Sincere gratitude to Happy Valley A.F.C care facility and his care giver Sofia.

To everything there is a season, and a time to every purpose under heaven.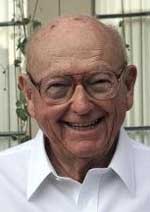 BF "Chip" Backlund

BF "Chip" Backlund, 90, died at home in Carefree, Arizona on April 29. For the last 40 years, he had split his time between homes in Peoria Heights, Illinois and Arizona.

Born May 31, 1924 near Stromsburg, Nebraska, he attended Kearney State and graduated from Washburn University in Kansas in 1946 with a degree in Economics. He obtained a Law degree from the University of Colorado and passed the Nebraska bar in 1949.

During World War II, Chip went into the V-12 program for college students and eventually became the Supply Officer on what would become the second most decorated ship in the Navy, the USS San Diego. The warship served the entire Pacific theater, and was the first to enter Tokyo Bay after Japan surrendered.

On July 3, 1947, he married Jean Lou Edwards of Kearney, Nebraska. Chip was preceded in death by wife Jean, sister Jeanne Peterson and brothers Edgar and Merle Backlund. Survivors include, children: John Backlund, Denver, Colorad, Camy and Craig McLaren, Chillicothe, Illinois and Steve and Tomi Backlund, Peoria, Illinois; Grandchildren: Matt and Chau Backlund, Northglenn, Colorado, Tera Backlund and Scott Frank, Morton, Illinois, and Eric Backlund, Ft. Collins, Colorado.; Great-grandchildren: Conner and Bryce Frank, Morton, Illinois.

He was legal counsel and Senior Bank Examiner for the Banking Department of Nebraska before he got involved in 1957 with the Dunlap State Bank near Peoria, Illinois. There were seven more Central Illinois banks added to the group and five of those have been combined to form Better Banks.

He was past president of the Illinois Bankers Association, and the Independent Community Bankers Association of America. He was one of the founders of the Community Bankers Association of Illinois. He served as a Director on the Federal Reserve Bank of Chicago from 1986 to 1992. He was appointed to and was Chairman of the White House Conference on Small Business for President Reagan, where he was Commissioner for the controversial issue of "The Future of the Small Business Administration." Chip personally presented President Reagan with the Final Report at a nationally televised news event at the White House. He was an invited panelist every year on the Conference on World Affairs from 1988-1993. He was a Faculty Member for the Assemblies for Bank Directors sponsored by Southern Methodist University from 1989-1992 and was Council Member of the National Federation of Independent Businesses from 1989-1999.

With his tremendous passion for local communities and businesses, he testified on behalf of community banking and small businesses at numerous hearings held by U.S. Senate Banking Committee, U.S. House Banking Committee and various sub-committees, the Securities and Exchange Commission and the White House Office of Consumer Affairs. He was an invited panelist/speaker at conferences, meetings for the Italian-American Society, Bank Administration Institute, National Association of Accountants, National Association of Internal Auditors, Small Business Administration, National Milk Producers, MacNeil/Lehrer Report (PBS), Financial News Network and numerous State Banking Associations.

Chip enjoyed passing the time by having lively and pointed discussions on world affairs, politics and economics. Known as 'Hookey' to his grandkids, he loved sports and was competitive his whole life, being an avid golfer and tennis player. One of his favorite sayings was "Golf isn't a sport, it's an addiction." This was so true as over the course of his life, he was a member of the Boulder (CO) Country Club, Riverside Country Club (Grand Island, NE), Mt. Hawley Country Club (Peoria, IL), Peoria (IL) Country Club, Quincy (IL) Country Club, Bob O'Link Golf Club (Highland Park, IL), Crow Valley Golf Club (Bettendorf, IA), and Desert Forest Golf Club and The Boulders, both in Carefree, AZ.

Visitation will be on Friday June 12, 2015 at Bethany Baptist Church, 7422 N. Heinz Lane, Edwards, Illinois from 4 – 6 p.m. Services will be held at 3 p.m., Saturday, June 13, 2015 at Bethany Baptist Church. An Honor Guard ceremony will be held at Swan Lake Cemetery at approximately 4 p.m. A Celebration of Life reception will be held from 5 – 7 p.m. after the ceremony, location to be announced at both the visitation and service.

In lieu of flowers, memorial contributions could be made to the Backlund Charitable Trust, 10225 N. Knoxville Ave, Peoria, IL 61615 which is to educate and to create awareness mainly of environmental issues, or Wildlife Prairie Park, 3826 N. Taylor Road, Hanna City, IL 61536.
The family extends a special thanks to Hospice of the Valley in Phoenix, Advanced Clinical Associates, Cypress HomeCare Solutions and Alisa Millette of Lafayette, Colorado for their wonderful help and support in the last months of Chip's life.