BY LINDA BENTLEY | MAY 20, 2015
Town of Cave Creek seeking new law firm
CAVE CREEK – During Monday night's Call to the Public, Kaolin Cummens said someone came by Local Jonny's and shut down the band.

He said, "I'm trying to follow the rules but I just don't get it if I'm under 75dB. I'm trying hard to run a business."

Cave Creek Museum Executive Director Evelyn Johnson passed out copies of the museum's annual report to council and stated, "We're about to close on May 31 with the strongest visitor numbers in years."

Lorraine Montuori, president of the Desert Foothills Mountain Bike Association said members volunteered over $5,000 in labor working on the town's trails.

She said the organization's May 2 fundraiser raised $4,000 and REI kicked in another $5,000 towards work to connect a segment of the town's trails.

Tom Davenport from Whispering Hills said he was following up on his last appearance before council to urge the town to place a utility undergrounding ordinance on the agenda as soon as possible.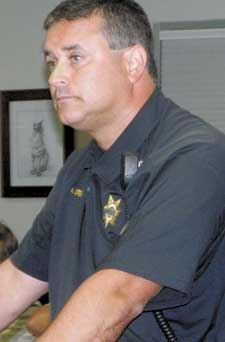 Council previously voted to deny recommendation for a liquor license for Joseph Martini upon the request of Town Marshall Adam Stein (r).

Martini read a letter he sent to Stein into the record.

He stated, "I am still at awe over the fact that you were not present at the town council meeting on Monday May 4, 2015. You made a recommendation to the town council to deny my liquor application, therefore sending it back to the state."

Martini also said he couldn't find any documents that grant the town marshal the authority to review liquor license applications and make recommendations to council and asked Stein to provide that to him along with his written report.

He said the last time the town recommended denial of a liquor license was in 1990, where two licenses for a Mexican restaurant were denied for being in a "high crime" area.

Town Clerk Carrie Dyrek advised council she spoke to the liquor board that day and they had not yet set a hearing date.

John Ford said Monday was the 45th anniversary of the day he moved to Cave Creek.

Ford said he is recovered from some health issues and plans to get back involved with the town.

Sunny Davis asked council if any of them had been to Desert Awareness Park lately and said it looked like ruins.

She asked, "Why would anyone recommend the park to families?"

Davis said once a project is purchased or completed the town washes its hand of it and moves on to the next project.

She said there were maintenance issues and without maintenance it is just another example of urban decay.

Davis questioned how much of the $25,000 in the budget, for both the park and rodeo grounds, was going to the park.

Council voted 6-1, with Councilman Dick Esser dissenting, to approve a settlement with APS in a condemnation case for an easement along Carefree Highway.

APS offered the town $50,000, roughly three times the appraised value, to settle the litigation so it can move forward with its 69 kV project to bring a redundant source of electricity to the town.

Art Taamayne, representing Whispering Hills, which will be affected by the new power poles along the south side of their subdivision on the north side of Carefree Highway, said there was nothing stopping Phoenix City Councilman Jim Waring from giving APS an easement on the south side of Carefree Highway but he couldn't get Waring to return his calls.

He asked council to read the letter he sent to Waring and asked council for more time.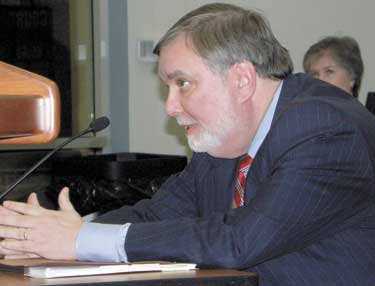 Town Attorney Gary Birnbaum (r) said there has been no approval from any of the stakeholders to move the lines and nothing has changed since the last time they asked for more time.

He said, "There's a lawsuit pending against the town," and stated APS has a statutory right to acquire rights.

According to Birnbaum, if council did not approve the settlement agreement, the town would have to answer the lawsuit.

He said, "We don't believe we have a defense."

Mayor Vincent Francia, who moved to approve the settlement, stated, "I do not want to delay this any longer. The redundancy benefits the greater community."

Esser said there were 278 residents in Whispering Hills and he couldn't support it.

Councilman Mark Lipsky commented he regretted the route APS chose to take, while Councilman Thomas McGuire stated, "A no vote benefits no one."

The next agenda item was a call to terminate Dickenson Wright as the town's law firm.

Councilman Steve LaMar said the item was brought to council about three years ago and he thought then it was time to go in a new direction but it was a 4-3 vote to keep them.

He said there were a variety of reasons to sever the relationship, without going into any detail.

Councilwoman Susan Clancy said she felt it was a good idea to put an RFP (request for proposals) out there.

Esser said it was a tough call after all the years of great service.

Birnbaum said the position of town attorney is apolitical and his firm has served the town for 16 years and he couldn't recall a single time where speed or quality of work have been called into account over that period.

He said, "Council is political. We're not. Somebody tell us what we have done in the last 16 years. We deserve a critique."

Birnbaum said it has been an honor to serve the town and would be an honor to continue serving the town.

Lipsky said he sent several e-mails to Attorney Fredda Bisman but she never responded to any of them.

He called the service from the firm "arrogant and aloof."

Fredda stated she responds to all e-mails and phone calls and insinuated she never received any e-mails from Lipsky.

As far as being apolitical, Birnbaum may want to revisit recalled Councilman Adam Trenk's deposition in the lawsuit filed against the town by former Town Manager Usama Abujbarah.

Trenk stated Bisman drafted his motion to terminate Abujbarah and hire his friend Rodney Glassman to replace him.

This means she drafted the motion for Trenk prior to his being sworn in to council.

In the lawsuit defending the town, Birnbaum's firm suggests being elected isn't the same as being sworn in when it comes to violating open meeting laws.

If that's the case, Bisman was representing Trenk as a private citizen, which would have been a conflict of interest in that situation as the town's law firm.

LaMar stated he was not comfortable with the relationship and said it was time to build a new relationship.

Councilman Ernie Bunch said he voted for change last time it was brought up and he supported it this time as well.

Francia said the firm has served in the best interest of the town for 16 years and he was not going to support it.

The vote to remove Dickenson Wright as the town attorney passed by a vote of 6-1 with Francia dissenting.

Council then voted unanimously to direct staff to put out an RFP for legal services and set a special meeting for an executive session on June 10 to interview applicants.

Council voted unanimously to pass the second reading of an ordinance to annex a two-acre parcel owned by Tractor Supply into the town from the county.

Lipsky introduced the next item, which dealt with possibly ceding the decision-making for lane closures during special events back to council.

Lipsky said he was a big fan of Bike Week and special events but the reason he brought this up was because when he was running for council the issue came up over and over again.

He said he was curious what businesses and citizens had to say.

Larry Wendt, who owns the Buffalo Chip Saloon, said he hoped there would be a bigger turnout for the agenda item.

Wendt said he opposed every special event going before council and stated he's had great luck working with staff.

Lipsky clarified they were only talking about special events requesting lane closures of 24 hours or longer.

Ford said he truly trusted staff but stated lane closures affect all citizens.

Mark Bradshaw, who owns the Hideaway and Tap Haus, which he said was soon to become the Hideaway Roadhouse, said he decided to open the Hideaway where it is in 1998.

Bradshaw said staff has made Bike Week a safe event.

"We're doing it right and staff does a great job," said Bradshaw.

Kim Brennan, owner of Big Earl's, said this year's traffic flow was easy and she only had to wait in traffic for "maybe two minutes."

Brennan stated she receives some of the residual effect of people coming to town for bike week and said, "I don't think this should become political."

Cummens said he wasn't even sure what the rules are but stated it was a matter of trust.

"Apparently we don't have that here," said Cummens, who complained about how MCSO handled traffic.

However, Cummens stated, "We don't want more hoops to jump through."

Jim O'Toole, Brandshaw's partner in the Tap Haus said when summer hits the town dies and stated, "We need every break we can get."

Lipsky asked where MCSO gets its directives for traffic control during events.

Stein responded by saying all law enforcement gets training at the academy in traffic control.

He said they give it their best effort and public safety is the driving force.

Stein said they tried to allow 15 cars to go by before stopping traffic for pedestrians.

Lipsky said it was his observations only one or two people seemed to get priority over traffic.

He asked Stein about a suggestion made previously about temporary bridges.

Stein said if the town or businesses had unlimited resources anything would be possible.

LaMar said citizens ask why we give up our roads for Bike Week and a survey indicated a vast majority are upset about businesses filling up their parking lots with concessions and using the public roads for their benefit.

He said they need to put their heads together and come up with something as there is enough public concern.

LaMar stated, "We need to find a balance and do this in a better way."

Lipsky noted the town has gone from closing lanes for Bike Week from two days to nine days and said, "That's a really, really long time."

McGuire said he was concerned about putting more road blocks in the way.

Clancy said she believes there are solutions out there.

Esser said there are many solutions.

He said he didn't like the motion, thought it was an overreach and couldn't support it.

Bunch said, "What we have here is we've become a victim of our own success."

He said he wasn't going to support the motion and there has got to be another answer than for council to get involved.

The motion to give council the authority to approve lane closures failed by a vote of 5-2 with LaMar and Lipsky voting yes.

The matter of returning legal advertising to Sonoran News was continued to the June 1 council meeting so Town Manager Peter Jankowski can first negotiate a rate with Publisher/Editor Don Sorchych.