My View

BY DON SORCHYCH | MAY 20, 2015
Balloon experience • Slow down!
About 9 a.m. on Saturday, May 7 Shari Jo heard the loud blast of fire used to levitate a huge balloon, but not immediately recognizing the sound, went out to investigate. Shari Jo was able to get pictures of the balloon heading our way.

The balloon then crashed into our front yard narrowly missing our vehicles with numerous passengers in the gondola.

Shari Jo talked to the pilot Randy Long, who is the owner of Arizona Balloon Safaris. He said that when they lifted off the wind was Westerly and only two mph, but a sudden wind change took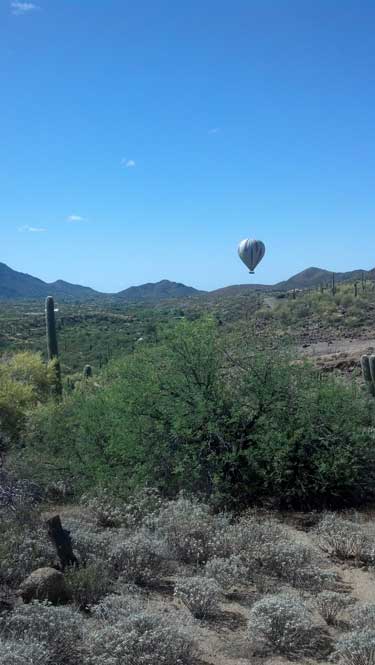 them east and when they came over the southern mountain range the wind kept them in a never ending swirling circle. The pilot explained that his control is only up and down and wind controls horizontal movement. He decided to take the balloon down but he was soaring over a mountainous region pushed by the wind. He looked for a flat landing place with trees to stop the basket. He tried to land about a quarter of a mile south of our place but didn't succeed. He knew when he spied our home in the distance, they had to make it. Somehow he avoided the power lines and the basket struck the eastern edge of our driveway, bounced, skidded across the driveway and slammed into a large lightening-damaged Palo Verde tree which stopped the balloon.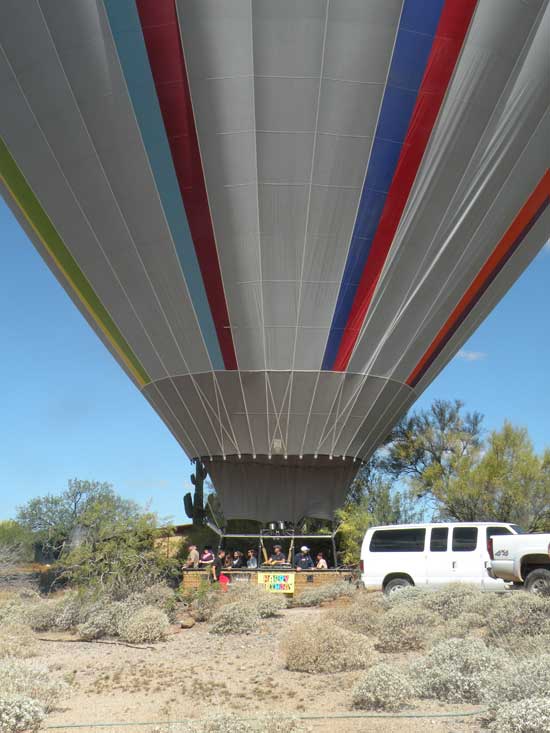 The wind was buffeting the balloon. The crew kept firing to keep the balloon inflated which we were afraid would ignite the desert foliage. Finally they stopped firing and the balloon deflated. There was balloon fabric all over the place including getting stuck on top of a large saguaro. Reinforcements arrived with a couple of vans and a large truck. Despite the fact the wind kept taking the balloon, their crew worked persistently to collapse the fabric and tie it off in segments. They then loaded the half ton of fabric in a rolling basket and onto the truck. They disassembled the gondola and loaded it in the truck also. It took nearly three hours.
The passengers and crew were loaded in vans with hors d'oeuvres in their hands and celebratory glasses of champagne.

Long said in 30 years of flying, he had never before landed in Cave Creek.

Our front yard looks like a bomb exploded with damaged bushes, a devastated Palo Verde Tree and several segments of mud pillar/tree truck fence destroyed.

The pilot gave Shari Jo a hand-painted Christmas ornament with a balloon picture on it as a property-owner landing gift. He said they give one to everyone on whose property they land.
Slow down!
Animals, reptiles and birds cross every place on every road in Cave Creek. When people speed or tailgate wildlife is at risk. Note the number of bunnies scrunched in roadways. Sure that feeds some other animal, notably crows, buzzards and even coyotes but wouldn't it be great to give them a lease on life?

Living in the desert unencumbered with hardly a visible neighbor we have lots of wildlife and Shari Jo has two oases (water only, no food) where we can see coyotes, bobcats, rabbits, quail, fox, hawks, lizards, Gila monsters, snakes, deer, javelina, abundant birds – our favorites are a pair of roadrunners – even an occasional mountain lion.

All of the above wildlife is at risk of being killed on our roads. My trek into work and back is largely on Spur Cross Road, Morning Star Road and my .6 mile easement. The speed limit is 35 mph for Spur Cross Road, 25 mph on Morning Star Road and no limit on my easement, but a safe speed is maybe 10 mph.

Spur Cross Road is the problem. If you drive the speed limit someone is soon tailgating you urging you to speed and that is where the threat of wildlife death exists. If you see one deer there are probably more; you should stop, look and proceed slowly. Quail and rabbits are notorious road crossers as are doves. They dart quickly and the speed limit is not a safe speed for them, especially if someone is tailgating you. I have yet to see a car a mile back stay at that distance; they are soon on my tail. MCSO presence would be a great help.

Please give wildlife a chance of long life.