MAY 20, 2015
'The Gallery at el Pedregal 4-1-1'
The Sonoran Arts League has teamed up with The Boulders Resort to bring the public an exceptional collection of Art, all in one beautiful place - The Gallery at el Pedregal. Located at 34505 N. Scottsdale Road, (second floor) Scottsdale, AZ 85266. Or you can visit their website at sonoranartsleague.org/the_gallery_at_el_pedregal.

The League has opened The Gallery at el Pedregal, offering art workshops, artists in residence, art special events and a rotating collection of work as the latest addition to the art scene in North Scottsdale.

As part of its Art in Public Places program, the League installs rotating exhibitions throughout the year at the Gallery at el Pedregal, the Desert Foothills Library, and the National Bank of Arizona.

Daily art workshops for adults and children are available at the Gallery. Please contact 480-575-6658 to reserve your spot today!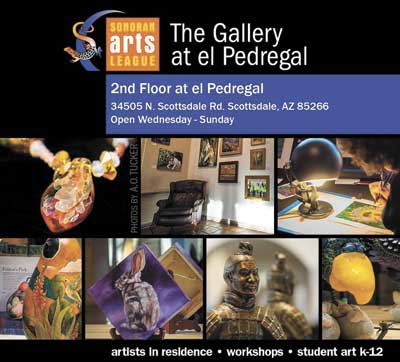 Artist in residence
In addition to outstanding "Artwork" in The Gallery and daily "Art Workshops", they offer an Artist In Residence program.

There are currently three Artists in Residence:
Joye DeGoede AIR
Judith Rothenstein-Putzer AIR
Dick Mueller AIR

The Gallery at el Pedregal offers you an opportunity to watch and interact with the Artist in Residence every day.

What: Pop Up Wednesdays
When: Wednesdays 4 – 6 p.m.
Where: The Gallery at el Pedregal
34505 N. Scottsdale Rd (second floor)

Pop into The Gallery at el Pedregal on Wednesdays. Bring friends and your beverage of choice. A box of crayons are optional. Join them for happy hour, beautiful art and fun conversations. Each week will have a special feature by one of their artists or guests.

Pop Up Wednesdays is like a box of crayons ... you never know what color you're gonna get! Email: thegallery@sonoranartsleague.org, or call 480-575-6658. Be sure to LIKE US on facebook! www.facebook.com/thegalleryatelpedregal.