BY MARIELLE D. MARNE | MAY 20, 2015
Dreaming by Design Landscape transforms your property into paradise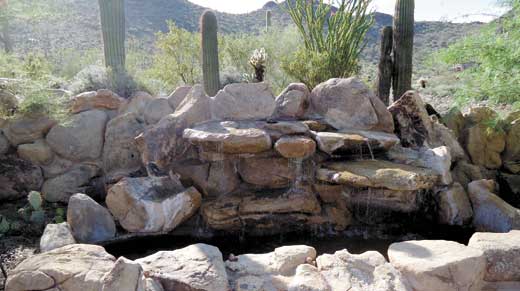 "Customers like us because we do everything," Rodrigo "Rod" Placensia of Dreaming by Design Landscape explained. "Everything" includes basic landscape, firepits/beehive fireplaces, lighting, pavers, custom iron gates, stamped concrete, natural stone water features, decks. "We've even had customers ask if we can patch something or hang a ceiling fan. If we're there and we can do it, we will." It's Placensia's above-and-beyond attitude that's allowed him such success over the last two decades with Dreaming by Design.

Placensia, a Shadow Mountain High School grad, is fulfilling his passion that emerged at a young age. At nine he was the water guy at a local nursery. Soon thereafter, he was working with Moon Valley Nursery, and with the blessing of his boss, was helping those patrons with odd jobs – removing trees, irrigation work. Eventually he put in his two-weeks notice and founded Dreaming by Design, its motto being "If you can dream it, we can build it."

Over the last twenty years, Placensia and his customers have been dreaming and building so well together that 60 percent of his business is repeat biz. "I just had a guy in Goodyear I did work for 10 years ago call me to do work at his new house. Or a lot of times, I'll do work in a neighborhood and the neighbors will see it and ask if I can come to their homes."

It makes sense when you see any of Placensia's valleywide projects. He's dedicated and has hand selected his team of 12. (The "newest" of whom having worked with him for the last nine years.) They'll accommodate any client request. "We just had someone ask us to build them a dog kennel, so we did. We even do pumpkins and Christmas trees."

Call Rod Placensia, 602-413-4370, and dream with him. He knows how to add value to a property and is willing to tackle any job – large or small. For more information and to view many images of their work, visit www.dreamingbydesignllc.com.