BY LINDA BENTLEY | MAY 13, 2015
Six-month bike lane project to start at onset of high season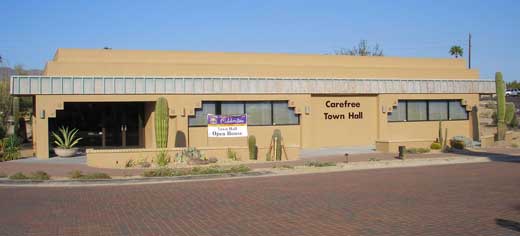 CAREFREE – During Call to the Public, Lyn Hitchon told council the town's sales tax revenue should be good for May because there was a convention with 500 people at the Carefree Resort.

Mayor Les Peterson said he had a conversation with Mr. Traynor about people who wish to speak on agenda items but occasionally can't stay if that item appears late on the agenda.

Peterson said if people who can't stay have comments they can submit them in writing and he will be happy to read them into the record, providing they limit their comments to no more than three minutes.

Vice Mayor John Crane thanked and praised Tyler and Jason from Rural/Metro, which he said he had to call for his visiting mother-in-law.

Crane said they arrived very fast, were very professional and got his mother-in-law to Mayo Hospital in an expeditious manner.

Town Planner Stacey Bridge-Denzak presented an intergovernmental agreement (IGA) between the towns of Carefree and Cave Creek and a resolution authorizing payment of the town's share in the amount of $140,159 to Cave Creek, which will be making the shared $215,629 payment to Arizona Department of Transportation, overseeing the joint bike lane project.

Bridge-Denzak also provided council with an update on the project.

She said the bid notices will be ready in late May, advertised in June, open bidding in July and board approval in August.

What this means is the six-month construction project will begin in September, not in June as originally announced, and continue through the high season.

Bridge-Denzak said 90 percent of the plants in the medians will be unaffected by the project, with 7 percent to be removed and 3 percent available for salvage.

She went on to say 7 percent of the existing medians will be reduced and 19 percent of the remaining medians will be narrowed.

Some of the traffic lanes will be narrowed to 11 feet in width.

However, according to Bridge-Denzak, there are several roads in Carefree that are currently 11-feet wide, including stretches of both northbound and southbound lanes along Tom Darlington Drive.

Crane asked who pays to relocate salvaged plants and if that was included in the contract.

Bridge-Denzak said if the bid comes in lower than estimated there could be money left over for that purpose.

Councilman Mike Farrar asked if Rural/Metro Fire was involved in the decision to narrow the lanes to 11 feet.

Rural/Metro Fire Chief John Kraetz was present and said Rural/Metro was not involved but said they have no problem with 11-foot-wide lanes.

During public comment, Ralph Pipp asked if the matching funds the town is using to pay for the project were coming from highway funds (HURF) and how the town would be funding the maintenance.

Brindge-Denzak said they were using HURF to pay for the project but maintenance would be part of the town's regular road maintenance program.

Town Administrator Gary Neiss interjected to say the contract includes slurry sealing the road as well, an added bonus that will give the roads a longer life.

Council voted unanimously to approve the IGA and resolution.

As he introduced the tentative budget of $7 million, Neiss reminded council there will be a special meeting on June 2 to adopt the final budget.

From the time they adopt the tentative budget, which sets the bottom line, until the final budget is adopted, Neiss said line items can still be moved around.

Town Accountant Jim Keen explained the town's expenditure limitation, as set by statute, is $9.3 million.

While there are exceptions, such as "Home Rule," a Keen noted is in use in Cave Creek, he said Carefree has never needed to seek an exception to the expenditure limitation.

Neiss said it was important for residents to know the town how healthy the town's reserves are with $2.5 million in its rainy day fund.

He also said he added $50,000 to the engineering budget to hire a contractor to comply with federally mandated but unfunded storm water improvements.

Council voted unanimously to adopt the tentative $7 million budget for Fiscal Year 2015-2016 and call for a special meeting on June 2 to adopt the final budget.

Peterson announced item 11, town council updates, which he said will now appear on every agenda.

One of the items he said a committee will be working on involves updating the town code to bring it into compliance with state statute.

Peterson said Town Attorney Michael Wright prepared comments to submit to the Arizona Corporation Commission in a rate case dispute filed by Venues Café against Liberty/Black Mountain Sewer.

He said the town did not have standing to intervene and submitted the document as comments.

Councilman Glenn Miller indicated he had reached a tentative agreement with Mark Wdowiak to take over the maintenance of the town's medians at a discounted rate.

The updates were for discussion only and no action was taken.

Council then voted to go into executive session to discuss contracts subject to negotiation.