MAY 6, 2015
Painting in the park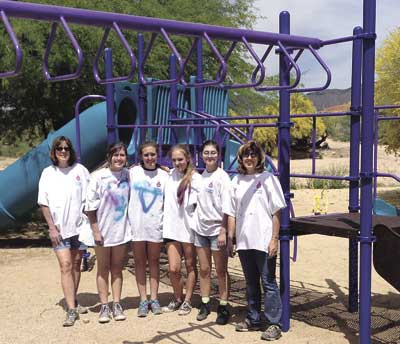 Live the Girl Scout law. That's what Girl Scout Seniors, Jenny Dowd, Laura Klein, Dana Miller and Phoebe Vaught from Troop 1838 did when called upon by the Desert Awareness Park Committee to give the park's playground equipment a facelift. The park is located one block north of Cave Creek Road on Vermeesch Road. The entrance is on the road between Binkley's restaurant and Cave Creek Building Supply.

Early Sunday morning of April 12, the troop went to work and painted the entire playground structure which included all the metal upright posts, climbing bars, stairs, bridge as well as the two plastic slides. Inviting colors of teal, bright blue and purple beckon kids to play and also blend nicely with the desert surroundings.

This was the troop's second project at the park. In September 2014, Troop 1838 completed a project beautifying the pylons next to the Desert Heritage Center. The project involved stripping old reflective tape, priming to cover rust, painting and adding a beautiful decorative metal band with cutouts of local desert animals.

There's more: The Girls from Girl Scout Troop 1838 have another fun project in mind for the park. It is a game designed to encourage patrons to explore the whole park by finding all 25 rusted metal horny toads "hiding" throughout the park. In addition to upcoming fundraising for this project the girls are also seeking 25 donations of $20 each. Please contact Diane Vaszily at the Desert Awareness Committee at 480-488-1090 if you are interested in making a donation for the Horny Toad Hide and Seek Project.