BY LINDA BENTLEY | APRIL 22, 2015
Whispering Hills gets final 'Hail Mary' as APS project proceeds
CAVE CREEK – During Monday night's Call to the Public, Kerry Smith passed copies of a prepared document to council and said he had two comments.

First, he said his comments were about the process of revising the general plan and stated, in the process of closing the last meeting, he requested Word versions of the changes made to the general plan but was told by staff that wasn't possible.

Second, he said the water assessments issue was really confusing.

Smith claimed the most recent reports indicated the town doesn't have enough water based on 2013 usage.

He said it would be more prudent to allocate the water the town already has, as he doubted the town would be able to obtain additional water rights from Indian tribes.

Tom Davenport addressed the APS transmission lines slated to be installed on Carefree Highway along the south boundary of the Whispering Hills subdivision.

Davenport said they were assured the route would be on the south side of Carefree Highway and, while they weren't happy with that, it was a better option than on the north side of the road.

He said after speaking with the state land department, it was suggested the town adopt an undergrounding ordinance.

Davenport said Whispering Hills was requesting the town adopt an undergrounding ordinance as soon as possible.

Mayor Vincent Francia announced Councilman Mark Lipsky was appearing telephonically but because they had such a bad connection he wouldn't be voting.

Town Marshal Adam Stein announced Fox 10's Zip Trip show would be filming live at the Buffalo Chip on Friday morning from 5:45 to 10 a.m.

He said Zip Trip was a news show and they will be showcasing the town's upcoming Furniture Expo.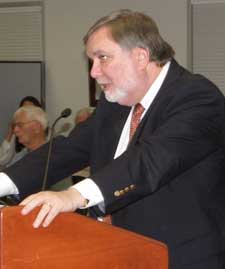 Town Attorney Gary Birnbaum (r) provided council with terms offered by APS to settle the condemnation lawsuit.

He said Whispering Hills has been engaged with their counsel in an attempt to relocate the APS lines to the south side of Carefree Highway or possibly intervene in the lawsuit against the town.

He said APS received an appraisal of $17,000 for the 1.2 mile strip of land, which the town rejected as too low.

Birnbaum noted the 1.2 mile strip is located within a floodway, flood plain and the wastewater treatment site.

APS came back with another offer of $25,000, which the town also found unacceptable.

Birnbaum said APS made a third offer of $50,000, providing immediate action is taken.

He said they also agreed to limit the installation within the easement to single-line poles for APS use only.

Birnbaum said the terms of the agreement were acceptable.

Stating, "We're very cognizant of the Whispering Hills situation," Birnbaum said APS has declined to move the line, the city of Phoenix and the state land department also declined to move the line.

He said unless Whispering Hills can offer an alternate route, there's nothing they can do.

Birnbaum said the town could approve, reject or postpone the agreement.

However, he cautioned, postponement could affect the $50,000 offer.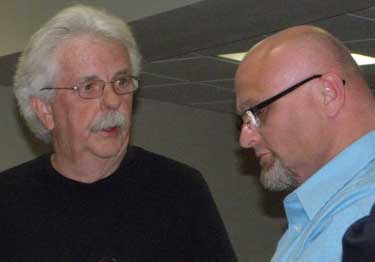 Councilwoman Susan Clancy asked APS Project Manager Richard Stuhan (on right, pictured with Art Taamayne) how many customers were affected by the Cave Creek substation.

Stuhan said it provided power to approximately 5,500 customers in Cave Creek, including town core businesses, some of the north part of Phoenix and the west side of Carefree.

Councilman Dick Esser asked about the project's schedule.

Stuhan said the project is scheduled for completion by June 2016.

Esser asked Birnbaum about the shelf life of the $50,000 offer.

Birnbaum said he didn't have a drop dead date.

Esser said the only thing Whispering Hills would need is 11 days, which is when they'll be meeting with Southwest Gas.

Stuhan said APS is not looking at postponing the project and will be moving forward as designed.

Responding to Councilman Thomas McGuire's question, Birnbaum said he was not recommending the town approve or not approve the agreement but was only identifying a risk if council does not approve it.

And, while Whispering Hills stated they might file a motion to intervene, Birnbaum said intervention was highly unlikely to succeed.

So far, he said there's been no intervention, no change by Phoenix, no change by the state land department and no change by Whispering Hills.

As far as an undergrounding ordinance was concerned, Birnbaum said those are ordinarily passed with an agreed upon sharing of expenses between APS and the town or subdivision impacted by 60 percent of the cost and 40 percent by APS.

He said it was his understanding undergrounding costs $1 million per mile.

However, even if the town were to pass an undergrounding ordinance, Birnbaum said it most likely wouldn't apply to this project.

"We've done nothing as the result of delay except delay," said Birnbaum.

During public comment, Joe DeFazio said he needed to understand what the proposal was and asked if the town was selling its landscape to APS for $50,000.

Birnbaum said the issue was about the town's desire to have a redundant source of power.

He said lots of maybes didn't pan out, adding, "By the way, we're selling for $50,000 what was appraised at $17,000."

Whispering Hills HOA President Art Taamayne asked Stuhan if APS' franchise agreement with the city of Phoenix allowed them the rights to use those easements in the city's rights-of-way.

Stuhan said they do but the issue here is there is no right-of-way along that stretch.

Bruce McNeill asked, in light of storms and winds that topple poles, if it weren't more efficient for APS to run the lines underground.

Stuhan said it was not and corrected Birnbaum's cost estimate of $1 million per mile and stated the cost is actually $3 million per mile and it was just the stretch in front of Whispering Hills that would cost approximately $1 million to underground.

He said steel monopole failure is quite rare.

Taamayne stated property values will take a big hit because of the poles along the southern boundary of their subdivision.

He said they've had meetings with a number of parties to gather information and launched their own inquiry with public records requests.

Taamayne said they weren't delaying but just now received new information, stating it took them a year to get these meetings together.

He asked council for a continuance so they could meet with Southwest Gas and Phoenix City Councilman Jim Waring in an effort to move the power lines to the south side of the road.

Francia asked how much time he was asking for, pointing out this has been going on for two years.

Taamayne said May 4 might not be enough time and asked if they could postpone it until the May 20 meeting.

APS Government Affairs Representative Katie Prendergast stated APS was copied on the letter Taamayne mentioned and said she spoke to Waring that afternoon.

She said Waring's position was unchanged on this matter.

Taamayne said Waring's position is unchanged because he is unaware of all the details of the new information they received.

Francia moved to approve the settlement agreement contingent upon no other agreement being reached by May 20.

Francia said he's been involved with this for so long and while they tried to get changes made the results come out the same.

He said he was sensitive to the entire community's concerns because when power goes out it not only affects our homes but also our water system.

Francia said there was a compelling argument to move this forward and give Whispering Hills more time.

He said, "Miracles do happen."

Councilman Ernie Bunch, who seconded the motion, said this has been going on for longer than two years.

He said at the first meeting it became apparent Phoenix, and the state land department, do not want this on the south side of the street.

Esser said he supports what the mayor proposed.

He said it's been a struggle and this will give them one last desperate shot.

Clancy said the redundancy is very important but hopes Phoenix changes its mind.

Councilman Steve LaMar said Waring is not going to change his mind and the best interest of the town outweighs delaying the project.

Francia's motion carried unanimously.