BY LINDA BENTLEY | APRIL 22, 2015
'Hell no' to bridge over the creek and 'Hell no' to conspiracy
Francia said, 'I don't want you to get spooks under the bed. I don't want you to jump to conclusions because something is different.'
CAVE CREEK – Mayor Vincent Francia moved agenda item number five, a resolution declaring intent to form the Cahava Springs Revitalization District and repealing the previous resolution passed by council.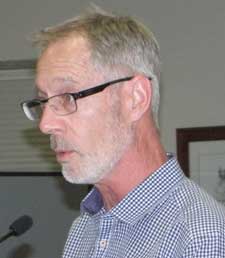 Mark Stapp (r), representing Cahava Springs, said the reason for the new resolution was due to the town's counsel asking them to make some minor changes to the document.

Stapp said he needed to address an urban myth, which he stated he was confronted with again that day.

"We have zero desire and no plans to build a bridge across Cave Creek," said Stapp, which those perpetuating the myth claiming it will bring traffic from I-17 through their neighborhood.

Councilwoman Susan Clancy asked when the project started.

Stapp said they've owned the property for about 30 years and this project began around 1999.

He said the process was long underway and they only took a break when the economy went south.

Councilman Thomas McGuire said citizens are concerned about the town's water supply.

Stapp said they had about 1,000 acre feet of water rights grandfathered in, stated they have a 100-year assured water supply and they gave the town far more than that.

Stapp explained the project covers about 982 acres, the original zoning was one home per acre and the project was originally platted for 1,000 lots.

The project is now 230 lots.

Stapp went on to clarify how the revitalization district works and stated it was a financing mechanism for which Cahava Springs and future property owners are solely responsible.

He stated the town has no involvement.

He introduced Bill Hicks, Cahava's bond counsel to further explain the district.

Hicks stated, "This is simply a financing device," with a three-person board to manage the district and likened it to borrowing money from a bank.

Stapp said, "Nothing precludes us from having a member of council on the board if so desired."

Councilman Thomas McGuire said it was probably preferable that no one from council serve on the board because then the town could have some potential liability.


During public comment, Kerry Smith (r) passed out copies of prepared comments to council and said, "What's before you is taxing favorable rights and treatments" and questioned the compatibility of the district within the town until the bonds are paid.

He said the board exercises control and urged council to take more time to find out more information.

Smith stated it sounded too good to be true and claimed everywhere special districts have been formed property values have decreased by 50 percent.

Smith also claimed there was no record of any water transfer from Cahava Springs.

Janelle Smith-Haff said Stapp could build a bridge across Cave Creek without the town violating the annexation agreement.

However, she said there would still be a violation and accused council of possibly conspiring with Stapp to violate the agreement.

Smith-Haff asked for full revocation of the resolution.

Bruce Biemeck said the town doesn't have the expertise to approve the proposal and stated the town really needs to know the plusses and minuses.

Another woman said it seemed like an unprecedented decision and it appeared as though the town was taking a risk.

David Smith said the document "has what it is not what it isn't."

Smith questioned if people within the district will be required to comply with the rules of the town and said if the project goes belly up the town might need to step in.

A man who has lived in the Cahava Springs area for 35 years said, "We voted you in to protect us. We're not in it for wealth and greed … We're in it for the quality of life."

Lynn Jackson expressed her concern, "We don't have any say about what goes on in this district. If we allow these everywhere in Cave Creek, we won't be Cave Creek anymore."

Stapp said they worked with the town's bond counsel, Fred Rosenfeld, and said, "Like Mr. [Kerry] Smith, I too am an economist."

As he mentioned a number of successful projects, including DC Ranch, that have utilized special districts, Stapp said there has been no diminishment in value.

Stapp said the process will reveal the facts.

Francia asked Stapp if he was planning to build a bridge over Cave Creek.

Stapp responded "Hell no!"

Vice Mayor Steve LaMar asked Stapp if he ever had as much as a conversation with him about the subject.

Stapp responded, once again, "Hell no!"

Francia asked Stapp if he were willing to participate in a town hall type of meeting to explain revitalization districts to concerned citizens.

Stapp said he welcomed Francia's request to participate in a town hall on the subject.

Francia told citizens that meeting will occur within the next two weeks.

Francia said, "I don't want you to get spooks under the bed. I don't want you to jump to conclusions because something is different."

Council passed the resolution unanimously with Councilman Mark Lipsky, who was appearing telephonically but due to the poor connection was not voting.

Council voted unanimously to authorize payment in the amount of $215,629 to the Arizona Department of Transportation (ADOT) for the Cave Creek-Carefree bike lane project. The town of Carefree's share, $140,158.85, will be paid to ADOT by Cave Creek and will be reimbursed to the town by Carefree.

Town Manager Peter Jankowski brought forward an amendment to the town's water service adjustment policy.

Jankowski brought the amendment before the old council in December but it didn't pass.

The policy allows for a one-time adjustment to a water customers' bill, whereas it bills them at the lower tiered rate when an undetected leak has resulted in a large water bill.

The amendment Jankowski brought forward would extend the policy to two consecutive billing cycles, so in the event a customer has a broken pipe, for example, that occurred shortly before their meter was read and is not made aware until the following month's bill arrives, the adjustment would apply to both month's bills.

During public comment, Brian Sirower said he was in favor of the change and called it one of the nation's stricter policies.

He pointed out it's not a free ride and customers are still paying for the water but at the reduced tiered rate.

Councilman Ernie Bunch moved to approve the amendment and said, "I made the motion last time it was around. We'll see if it works better this time around."

LaMar, who seconded the motion, commented, "It's fair. It's reasonable."

The motion passed unanimously.

Jankowski asked council to consider changing a policy that would begin charging some Desert Hills water customers for boost stations.

He said if they require two or more boost stations they should be billed an additional $8 per month, the additional cost for electricity to deliver the water.

Desert Hills customers, for whatever reason, were never billed for the boost stations as Cave Creek customers have been.

Jankowski said he would like to start the billing in June.

Francia said the item was for discussion only and no council action was being taken.