BY LINDA BENTLEY | APRIL 22, 2015
General plan public hearing continued to May due to lack of quorum
CAVE CREEK – Last Thursday's scheduled planning commission meeting to review and discuss the first draft of the proposed 2015 general plan was thwarted by the lack of a quorum.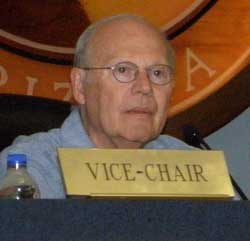 Chairman David Smith (l) called commissioners, who were mingling with attendees, to the dais after the 7 p.m. scheduled start time, to find only Vice Chair Eileen Wright and Commissioner Bob Voris present, making them one commissioner shy of a quorum.

Smith apologized to those in attendance as he announced the meeting could not proceed due to a lack of quorum.

He asked Planning Director Ian Cordwell when they could reschedule the meeting.

Cordwell stated the earliest it could be was May 14, since the public hearing needed to be re-advertised.

Cordwell also said they will continue accepting comments until then as well.

Despite the meeting being continued to May, Kerry Smith asked if the planning department intends to provide answers to all the questions submitted.

Cordwell responded affirmatively.

Katya Kincel said her submission, including her flow chart of the general plan process, was not included in the 199-page document.

Smith said it was included in his packet.

Cordwell said he would look into it and make sure it was included.

Associate Planner Bambi Muller said afterward Kincel's submission was indeed included and began on page 163.