APRIL 22, 2015
BLM to Offer Wild Horses, Burros for Adoption at Extreme Mustang Makeover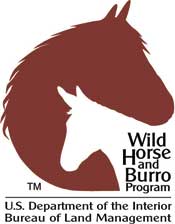 PHOENIX – As part of the Extreme Mustang Makeover on April 24-25 in Queen Creek, the Bureau of Land Management will be offering wild horses and burros for adoption.

About 15 untrained wild horses and five trained burros will be available for adoption from 9 a.m. to 5 p.m. on each day of the two-day event. The location is Horseshoe Park & Equestrian Centre, 20464 E. Riggs Road, Queen Creek.

The cost to adopt an untrained horse is $125. The cost for a trained burro is $325.

Adopters must have adequate physical facilities to keep a horse or a burro and have an approved trailer on-hand to haul the animal. Potential adopters can get BLM approval onsite.

The horses and burros that the BLM will be offering for adoption are from the Wild Horse Training and Holding Facility at the state prison in Florence. The burros available for adoption are trained by inmates to ride, carry a pack, and pull a cart. Inmates will be demonstrating their training techniques at 4 p.m. on April 24, as part of the Extreme Mustang Makeover.

The trained wild horses that will be competing in the Extreme Mustang Makeover – all geldings – have been trained for about 100 days. The horses will be judged over the two days in a series of competition performances. In the final performance at 6 p.m. on April 25, the top-10 horse-trainer teams will compete, using music, costumes, and props. The competing horses will be available for adoption through a competitive bid after the show.

Information about the BLM's Wild Horse and Burro Program is available at www.blm.gov/wo/st/en/prog/whbprogram.html and 866-468-7826.

Information about the Extreme Mustang Makeover is available at extrememustangmakeover.com.