APRIL 15, 2015
20th Anniversary of Sonoran Stars on May 2
Fundraising event to benefit Desert Foothills Land Trust moves to an exciting new venue!
Sonoran Stars Details:
Date: Saturday, May 2, 2015 Time: 5 p.m. – 9:30 p.m.
Location: Desert Foothills Events Venue, located past McDonald's Ranch on Jomax Rd, west of Scottsdale Rd.
Description: Cocktail reception, live and silent auction, rehabilitated raptor release, gourmet dinner, open bar, live music
Attire: Cowboy chic; dress for cool evening temperatures
Parking: Valet parking on-site
Tickets: $250 each; table sponsorships available
Reservations: www.dflt.org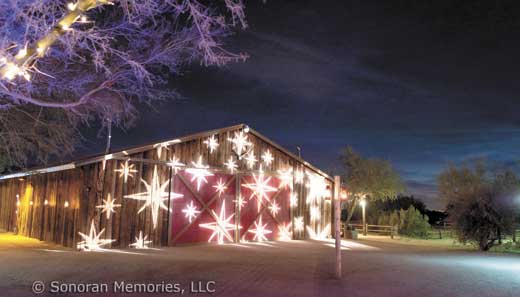 On May 2, 2015 Desert Foothills Land Trust will host its 20th annual Sonoran Stars, and the event is moving to an exciting new location!

After outgrowing their previous space, the Land Trust began looking for a larger location, and one that would celebrate the incredible Sonoran Desert environment. They found just the spot near Scottsdale and Jomax roads, behind McDonald's Ranch.

This Desert Foothills location allows the event to grow, and provides a beautiful barn and gorgeous desert surroundings. This new venue reflects both elegant comfort and the beautiful atmosphere for which Sonoran Stars is known.

Sonoran Stars will include a gourmet dinner prepared by Creations in Cuisine's Chef Tony Rea, as well as a lively auction with auctioneer Letitia Fry, a silent auction and the release of a rehabilitated owl by Wild At Heart. This year, it will also feature dancing under the stars with music by Western Fusion and even professional dancers from Fred Astaire Dance Studios.

Sonoran Stars is Desert Foothills Land Trust's primary fundraising event, funding the organization's mission to acquire and permanently care for sensitive and important natural areas, and to connect people directly to these special places.

Over the last 20 years, Sonoran Stars has become an important event for our community and for Desert Foothills Land Trust's land conservation work. It's also certain to be a fabulous evening! Most importantly, it allows guests to be directly connected with on-the-ground local land conservation efforts.

It's time to put on your dancing boots and treat yourself to a great evening celebrating the conservation of our beautiful Sonoran Desert!

Desert Foothills Land Trust works with landowners, communities and partners to protect the most special and important natural areas in the Arizona communities of Carefree, Cave Creek, North Scottsdale, North Phoenix, Anthem, Desert Hills and New River. The Land Trust has permanently protected more than 680 acres on 23 preserves, many of which are open to the public for exploration and passive recreation. In 2010, the Land Trust was awarded accredited status by the national Land Trust Accreditation Commission – a mark of distinction in the land trust community. More information is available at www.dflt.org or 480-488-6131.