BY MARIELLE D. MARNE | APRIL 15, 2015
Summit Diner continues to be neighborhood favorite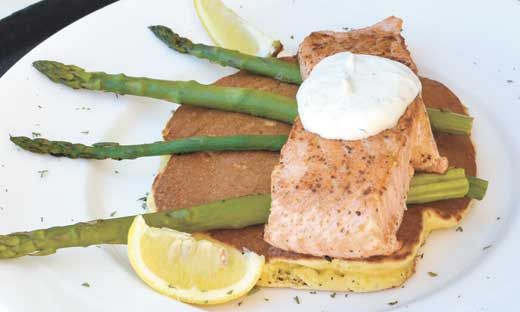 SCOTTSDALE – As the roster of VIP members grows at the Summit Diner, owner Joe Kapidani continues to keep things fresh for them. Currently he has 4,600 members signed up for the VIP Club. (Spend $60 and get $10 off next meal. Members also earn free birthday and/or anniversary entrees up to $11.) In addition to the free perks, members receive a monthly email as to the Summit's specials. Customers really appreciate the heads-up, Kapidani said. See additional details at www.summitdineraz.com or on Facebook.

But savings don't end with the VIP Club. There's a terrific daily happy hour from 2-6 p.m. Take advantage of $1 off beer/wine and $2 off mixed drinks. There are six beers on tap, most are local, including from SanTan Brewery. When summer heats up, cool off with an icy draft at the Summit.

Once you've sipped a cocktail, order a Summit Diner culinary favorite. The salmon on spring veggies is not only a generous portion but offered at a great price. At $11.99, you can't beat all-you-can-eat buttermilk fried chicken on Thursday and Sunday. "Customers love it!" On Fridays, the catch of the day is organic Alaskan wild-caught Cod. Enjoy dining on the patio (your pup is welcome) or inside as the weather warms. And don't forget the Summit Diner has some decadent desserts: flourless (gluten-free) chocolate cake, apple pie (with ice cream or not), cannoli, baklava. While wrapping up your meal, perhaps partake of one of the many really good wines.

Truly, stop in, they treat you like family, and as the trend at the Summit continues, feel free to order pancakes for dinner. The staff genuinely wants you to feel at home!

Summit Diner is located at 32531 N. Scottsdale Rd. Open seven days a week, 7 a.m. – 9 p.m. Phone 480-575-6562 for directions.