BY LINDA BENTLEY | APRIL 8, 2015
Fiesta Days Rodeo a 'tremendous success'
Cahava Springs project moves forward, providing hope for water to west side residents
CAVE CREEK – Mayor Vincent Francia announced the 6th Annual Trail Run, coordinated by Korina Riggin, was a success that brought nearly 300 participants to town this past weekend.

Francia said the proceeds from the entry fees go toward the purchase of open space.

Later during the meeting, Trails Coordinator Bambi Muller said the trail run event has raised approximately $80,000 to date.

Robert Morris spoke during Call to the Public to tell council it has a "marvelous opportunity" to make a deal with Liberty to process its wastewater.

Morris said the town's wastewater treatment plant is only operating at one-third capacity and the deal would provide needed revenue.

He urged the town not to lose out on this opportunity to Scottsdale. And, since Scottsdale is already processing some of Liberty's wastewater, he said the rates they are charging should be readily available.

Bill Allen, chairman of the water advisory committee (WAC), defended the committee's open meeting law violation by stating he requested a report from a subcommittee, which he claimed was on the agenda, although perhaps not as specific as it could have been.

He too supported striking a deal with Liberty and said the town takes $1.2 million every year from the general fund to help support utility operations.

A member of the Desert Awareness Committee announced the school district received an $8,600 APS grant to enable fourth grade students to visit Desert Awareness Park.

She said the committee detects that the park is in danger of losing funding, asked why there wasn't anything left in the budget to repair or replace things that are aged and said the park shouldn't have to compete with the rodeo grounds for funding.

Traci Casale, president of Cave Creek Fiesta Days Rodeo, told council she will be back in May to let them know how well the rodeo did this year.

She said bumping the parade up one week was a good idea that worked out well for everyone.

Casale said rodeo weekend was a sell-out crowd and they could have sold standing-room-only tickets.

Reiterating the full report will come to council in May, Casale said the rodeo was a "tremendous success."

Kaolin Cummens, owner of the Flat Tire Bike Shop, asked for an update on the Surrey Hill Trail because people come into his store all the time asking about it. He asked the town to provide a map and, knowing there were issues with the property owners on a portion of the trail, which has since been cut off, wanted to know what was going on.

Francia asked Muller to provide council with an update on the situation at the next council meeting.

Councilwoman Susan Clancy recused herself from voting on the consent agenda stating she wasn't on council when some of those meetings occurred so she didn't feel right voting on the minutes.

Planning Director Ian Cordwell said the board of adjustment had an opening and introduced Jay Johnson, who submitted a resume and letter of interest.

Johnson said he's lived in town for a year and a half and practiced law in Arizona for 20 years.

Clancy and councilmen Thomas McGuire and Dick Esser all commented they were impressed with his resume as Johnson received a unanimous nod by council.

Muller provided council with an update on the Gateway Trail project, which she said has been on the map since 2005.

She said Phoenix has completed its section of the trail and the Desert Foothills Mountain Bike Association and REI have offered to donate time and money to complete the trail.

Muller said, "We'd like to do this in October."

She said completing this section of trail will open Gateway to hundreds of miles of trails.

According to Muller, the only financial responsibility the town will have is for the survey.

Clancy asked who keeps the trails clean.

Muller said that hasn't been a problem.

During public comment, Lorraine Montori, president of the Desert Foothills Mountain Bike Association, said their club has donated hundreds of hours working on trails in Cave Creek.

REI and Okanogan Trail Construction have agreed to donate to make completion of the trail a reality.

She said they will be holding a fundraiser on May 2 and those who volunteer to work on the trail will receive lunch and free T-shirt.

Terry Smith said mountain bikers have made the trails better.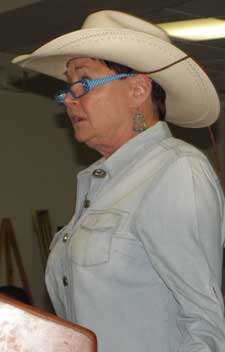 Addressing Muller, Katya Kincel (r) said she hoped Muller's presentation is available on the town's website.

Councilman Mark Lipsky told Muller to mark him down as a volunteer in October.

Mark Stapp addressed council about the formation of a special district for financing infrastructure improvements for the Cahava Springs subdivision.

He said statute allows for the formation of special districts as a means of private financing for public improvements.

Stapp said it is a way for growth to pay for growth at no expense to the town.

He said in order to move forward with the formation of the special district, there is a process that must be followed.

The first step is for council to consent to the district's formation. However, there must be two public hearings before it can be finalized.

Stapp said all of the engineering plans were completed and submitted to the town and all improvements are designed to the town's specifications.

As far as activating the water line on 26th Street goes, Stapp said the cost is approximately $100,000 and could be completed in four to six months.

He said statute allows for a newer form of district, called a revitalization district, and the only difference is the town is not a party.

Stapp said they just completed a market analysis, which determined there is a demand for the type of project they will be developing.

He said the bonds are paid through property taxes by those who purchase property in the subdivision.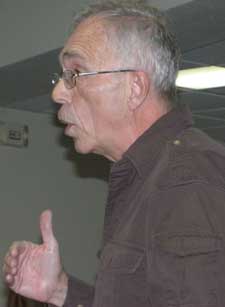 During public comment Kerry Smith (r) said in the general plan, dealing with potable water, there is no attention to how much water, claiming the town does not now have adequate water to buildout.

He said beginning in 2017 the town will have a shortage of 65 acre feet of water per year.

Anna Marsolo claimed special districts can override general plans and zoning laws.

Terry Smith, who lives on 26th Street, stated, "We are impacted by this. We need water. We need this."

He pleaded with council to "let them get this started … get this thing rolling."

Kincel said she wondered where copies of the presentation were, why the project was abandoned and why the project was going around the subdivision laws.

Kincel stated there was supposed to be water tank built in 2010.

Stapp said the project was approved 10 years ago but was suspended after the downturn in the economy.

He said Cahava Springs gave the town over 700 acre feet of water rights and stated the project has a 100 year assured water supply.

Greg Swartz, senior vice president, public finance investment banking, with Piper Jaffray, stated districts do not have powers over and above the town's authority or that trump the town's authority.

Councilman Ernie Bunch moved to approve and said he was happy to see the project moving forward.

Councilman Steve LaMar, who seconded the motion, said he appreciated Stapp's persistence.

McGuire noted there was no liability to the town and it was a benefit to the west side with no downside.

The motion carried unanimously.

Council also unanimously approved the site plan for Phase II of the McDonald's project for a new fast food restaurant building on the west end of the project.

Stewart Jean with Park West said there was every indication McDonalds will build in the near future and said they have paid for improvements and permits and are paying rent.

Jean said he couldn't say who the restaurant will be but said it is a quick service restaurant that sells a lot of coffee.

Associate Planner Luke Kautzman said the applicant meets and exceeds all of the town's requirements.

Jean said he will be coming back to council for approval of Phase III for the center building.

During public comment, Cheryl Carmitchel said she never understood there was going to be a Phase II and II and expressed having serious concerns about having two drive-throughs of any kind. She said it was a serious traffic issue.

Council voted unanimously to re-adopt the general plan until August 2016.

Planning director Ian Cordwell explained the existing plan expires in May and this will give the general plan as much time as necessary.

And while there were concerns expressed about the date being so far in the future, Cordwell stated the town could get it done sooner but the August 2016 deadline is to coordinate with the November 2016 elections, since it must go to the voters for approval.

During public comment, Kerry Smith asked if anyone on the planning commission requested the extension and asked, "Why the delay?"

Kincel said the town code and state statute state the planning commission has single authority for the general plan. "It's their ownership to change the general plan."

Francia corrected Kincel by saying "suggested changes."

Kincel went on to say, "It's not up to staff to make these changes."

Esser, whose motion to approve carried unanimously, said he attended one of the workshops where Cordwell stated there is no hurry to get the general plan done and this gives them time to get it right.

Council voted 6-1, with Esser dsenting, to approve an expenditure of $188,364 to Alliance Streetworks, Inc. for the construction of Jack Cartwright Pass (formerly referred to as the Bella Vista loop road).

At first Bunch, who said he couldn't support the expenditure, felt the money could be better spent to repair existing roads rather than build new ones that may fall behind in maintenance as well.

However, after Cordwell explained the history of the road and the various previously non-conforming lots, which were rezoned and hold potential to be developed into revenue generators, Bunch changed his mind.

Council voted unanimously to approve a resolution authorizing the mayor to approve and execute an amendment to the intergovernmental agreement between the town and Maricopa County Library District for the town's participation in a library assistance program.