BY LINDA BENTLEY | APRIL 8, 2015
Budget workshop focuses on marketing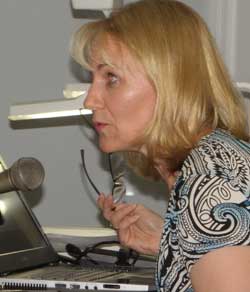 CAREFREE – Tuesday's budget workshop focused exclusively on marketing with Gina Kaegi (r), the town's new marketing and communications director, providing an in-depth presentation of her plans for the upcoming year along with a requested budget of $200,000.

Kaegi, a Carefree resident, who comes to the town with 23 years of marketing experience said she wants to create a plan that works hand in hand with each of the other components.
Kaegi said the town's two websites, one municipal and one for tourism, is confusing and with her plan the town will be "pulling them together."

She said the town brand has struggled to find itself and tag lines usually have a shelf life of two to three years.

While noting the Owens Harkey contract expires in May, Kaegi didn't address renewal.

"I want to identify a brand for Carefree," said Kaegi, "the town needs a refresh on brand and recognition."

She said she will also be seeking corporate sponsorships.

Admitting print advertising was somewhat necessary, Kaegi stated, "Digital will get you a lot more bang for your buck than print."

Council scheduled its next budget workshop for 3 p.m. on Wednesday, April 15 and tentatively scheduled an additional workshop for 5 p.m. on Tuesday, April 21, if they feel it is necessary.

Town Administrator Gary Neiss said council may hold additional budget workshops if needed but should approve the bottom line figure during the May 8 council meeting to publish, as per state statute, and adopt the FY 2015-2016 budget during the June council meeting.