BY LINDA BENTLEY | APRIL 1, 2015
Clintons sued for operating criminal enterprise in RICO complaint
Klayman asserts the Clintons have, for over the last 10 plus years, conducted a corrupt enterprise in violation of RICO
MIAMI – Last week, Attorney Larry Klayman, founder of Freedom Watch and former federal prosecutor, filed a civil Racketeer Influenced and Corrupt Organizations Act (RICO) complaint against Bill and Hillary Clinton and The Clinton Foundation for operating a criminal enterprise, violating his statutory rights to obtain documents under the Freedom of Information Act (FOIA), vested property rights and misappropriating property.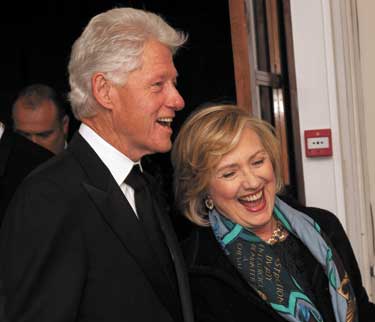 Klayman asserts the Clintons have, for over the last 10 plus years, and continuing to this day, conducted a corrupt enterprise in violation of RICO.

"RICO addresses the corrupt abuse and misuse – usually covertly – of organizations, entities, businesses, institutions or even governments or government agencies, such that superficially legitimate entities actually operate for criminal purposes irrelevant to the entity's purpose," explained Klayman.

Klayman filed the complaint after filing numerous FOIA requests for public records created or held by the U.S. Department of State, which he believes are of public interest and importance to citizens of the United States.

Two requests, in particular, Klayman noted were withheld by defendants.

One had to do with the granting of waivers by the Secretary of State for persons, companies, countries, and other interests to do business with Iran.

The second one concerned the defendants, Hillary Clinton in particular, leaking Israeli war plans and cyber-warfare methods and sources to David Sanger of the New York Times.

Klayman stated the primary reason, just recently revealed, he did not receive records to which he is entitled by law is because Hillary Clinton, together with Cheryl Mills, who was Hillary Clinton's chief of staff at the time, Bill Clinton and other Clinton "loyalists" set up a private computer file server operating a private, stand-alone e-mail system.

That private e-mail system, set up in her mansion in Chappaqua, New York, was admittedly used by Hillary Clinton and the State Department for all her official communications as Secretary of State.

That server is jointly owned, operated and controlled by both Hillary and Bill Clinton.

Klayman states the server was established in part for the use of the Clinton Foundation and Hillary Clinton, both of which own the server in whole or in part.

As a result of Clinton using that private e-mail server for all her official government business as Secretary of State, she was able to conceal public records to which Klayman was entitled under FOIA.

Because defendants concealed official documents, they could not be searched and produced to Klayman through his FOIA requests.

Klayman claims, "Defendants intended to operate a covert enterprise of trading political favors and governmental acts in exchange for donations, which are in effect bribes, to defendant The Clinton Foundation and/or speaking fees to defendants Bill and/or Hillary Clinton."

Klayman accuses defendants of negotiating, arranging and implementing the sale of influence and access to U.S. government officials and decision-makers and official acts by the State Department and other instrumentalities in exchange for "gratuitous and illegal payments – bribes – disguised as donations" to defendant The Clinton Foundation, established by Bill Clinton in 2001 with the stated mission to "strengthen the capacity of people throughout the world to meet the challenges of global interdependence," and extraordinarily high speaking fees paid to both Bill and Hillary Clinton.

Klayman stated the illegal conduct is consistent with pattern and practice and course of conduct of defendants during their administration in the 1990s.

He accuses the defendants of misappropriating, or rather stealing, the documents, which are U.S. Government property under relevant records management and archiving laws governing U.S. Government officials.

Klayman's FOIA request of May 21, 2012 asked for "any and all documents that refer or relate in any way to grant waivers to all countries and other interests doing business with the Islamic Republic of Iran pursuant to the Comprehensive Iran Sanctions, Accountability and Divestment Act …" which he said was established by Congress to hinder Iran's development of nuclear weapons capable of doing massive damage to cities in the United States, Israel and other western allies by limiting financial transfers to Iran and Iranian interests, as well as discouraging Iran's military build-up and march to nuclear weapons of mass destruction.

According to Klayman, decisions by then Secretary of State Hillary Clinton to waive these sanctions are likely to directly undermine the Congressionally-established foreign policy of limiting Iran's financial abilities to develop nuclear weaponry.

Clinton decided to destroy what she claims were personal records only after numerous Congressional subpoenas and FOIA requests had been issued by various parties, including Klayman, and in the wake of the Sept. 11, 2012 terrorist attack on the U.S. Consulate in Benghazi, Lybia.

According to Ethics Professor Ronald D. Rotunda, Hillary Clinton's actions were an intentional and pre-mediated effort, in violation of the law, to evade Congressional subpoenas and other legal accountability: "Mrs. Clinton was worried that communicating through e-mail would leave a trail that might be subject to subpoena. 'As much as I've been investigated and all of that,' she said in 2000, 'why would I ever want to do email?' But when she became secretary of state, she didn't have much choice. So she set up a private server in her house. That way, in the event of an investigation, she could control which emails would be turned over."

While Hillary Clinton claimed publicly that many of the so-called personal e-mails she destroyed were sent to her husband, Bill Clinton contradicted this false account.

A Bill Clinton spokesperson stated Bill Clinton sent two e-mails in his entire life: one to astronaut and former Senator John Glenn, and the other to U.S. troops.

When she departed from the State Department, Clinton was required to undergo separation procedures in accordance with the State's Records Management Manual, which required Clinton to certify she had returned to the State Department all documents in her possession, including Form 109.

Form 109, part of the mandatory related procedures, warned Clinton that she must return official records to the State Department and warned her of multiple criminal statutes that would be violated for not doing so.

It was recently reported that Clinton did not sign Form 109, which Klayman believes is likely false but also irrelevant under the law.

Klayman stated, "[R]egardless of whether she signed the form, defendant Hillary Clinton was nevertheless required to return official records upon her separation from service at the U.S. Department of State.

U.S. Code, in pertinent part, states, "Whoever, having the custody of any such record, proceeding, map, book, document, paper, or other thing, willfully and unlawfully conceals, removes, mutilates, obliterates, falsifies, or destroys the same, shall be fined under this title or imprisoned not more than three years, or both; and shall forfeit his office and be disqualified from holding any office under the United States . . ."

Klayman goes on to say, "Consistent with selling some of America's most sensitive military secrets for campaign donations and other illegal gratuities, there is nothing that is not for sale by the Clintons to the foreign governments and foreign businesses and individuals who donate to defendant The Clinton Foundation or to the Clintons personally."

He says the Clinton's pattern of illegal activities, or predicate acts, were committed within the past 10 years and continuing and done with the purpose of financial gain.

Klayman is asking the court to grant injunctive relief by ordering a forensic computer expert to take immediate possession of the server, locate and recover any and all e-mails that may be responsive to his FOIA requests and/or qualify as official records, actual damages, punitive damages, equitable relief, reasonable attorneys' fees, pre-judgment and post-judgment interest and costs, trebled damages for the RICO violations, an order for defendants to expeditiously produce any and all non-exempt records responsive to his FOIA requests and a Vaughn index of any responsive records withheld, $5 million in compensatory damages and in excess of $200 million in punitive damages.