APRIL 1, 2015
Hikers put heart, soles into helping bird sanctuary
Four women to hike 800-mile Arizona Trail to support Wild At Heart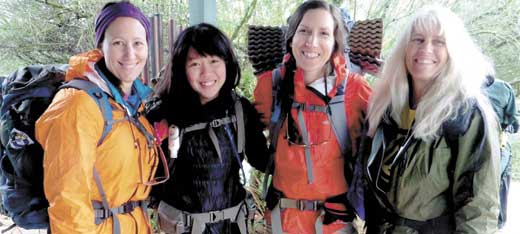 The Wild At Heart team hiking the Arizona Trail in support of the raptor sanctuary are (l-r) Alexandra Mayo Otis, Kimberlie Wong, Emily Roberge and Cindi Mayo.



CAVE CREEK – Four women, including a mother-daughter team, hike an 800-plus-mile Arizona Trail to help wild birds rescued by Wild At Heart in Cave Creek.

The goal is to not only complete the multi-terrain hike, but also to raise awareness of Arizona's birds of prey and funds for injured owls and other raptors at Wild At Heart. Located in Cave Creek, the internationally recognized sanctuary is a nonprofit organization supported solely by donations and volunteers.

Two of the women hiking the trail are volunteers at Wild At Heart. The team consists of close friends and includes a mother and her daughter. They are:
Emily Roberge, of Tempe (Wild At Heart volunteer)
Alexandra Mayo Otis, of Phoenix
Cindi Mayo, of Phoenix (Wild At Heart volunteer)
Kimberlie Wong, of Honolulu, HI

The group embarked on the trail at the Mexican border southeast of Sierra Vista on March 4. They are traveling with a stuffed toy owl, named Widget, as their mascot.

The hikers expect to put 12 to 18 miles behind them each day, posting photos and blogging about their trip and the terrain and wildlife in the area when they can get a wireless signal.
Those wishing to support Wild At Heart with a donation are encouraged to do so. Visit WildatHeartRaptors.org.

Wild At Heart is a non-profit 501(c)3 organization dedicated to the conservation and preservation of Arizona's native birds of prey.