APRIL 1, 2015
Community briefs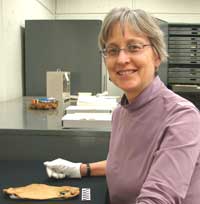 Desert Foothills Chapter, Arizona Archaeological Society monthly meeting April 8
Dr. Laurie Webster is the guest speaker for the April 8 meeting. Webster is an expert in Southwestern perishable materials and specializes in the weaving traditions of this geographic area, especially prehistorically. The general public may attend the meeting at no charge. Refreshments at 7 p.m., the meeting begins at 7:30 p.m. This meeting's location is the Holland Community Center, 34250 N. 60th Street, Scottsdale, Building B. For more information visit www.azarchsoc.org/desertfoothills.
Monthly Chapter2 Book Sale
Friday, April 10, 9 a.m. to 6 p.m.; Saturday, April 11, 10 a.m. to 4 p.m.; Sunday, April 12, noon to 4 p.m.

All bargain books are $1 or less. At the Desert Foothills Library on the tables and black carts outside Chapter 2 Books. Open 7 days a week. 38443 N. Schoolhouse Road, Cave Creek. 480-488-2777 | www.chapter2booksaz.com.
Cave Creek Museum Hosts "Spaghetti Dinner"
Cave Creek Museum is embracing Spring with a Spaghetti Dinner on April 12. Bring your appetite to Cave Creek Museum's "Spaghetti Dinner" fundraiser at Harold's Cave Creek Corral, 6895 E. Cave Creek Rd., on Sunday, April 12 from 4 to 7 p.m. The event will include a raffle and silent auction. Tickets are available at the museum or at the door and cost $15 for adults; $7 for children ages 5-11 and free for children under 5. For more information, call 480-488-2764 or visit www.cavecreekmuseum.org.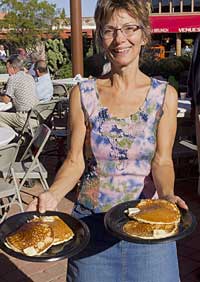 Kiwanis Club of Carefree Pancake Breakfast
April 18 from 7 – 11 a.m. at Sanderson Lincoln Pavilion, Carefree. Delicious gigantic pancakes, gourmet sausage, fresh OJ and great coffee. Proceeds go to the Kiwanis Club of Carefree Benefit Foundation, Inc. Tickets are $8 for adults and $4 for children ages 14 and under, available at the Kiwanis Marketplace on Cave Creek Road or at the Pancake Breakfast. 101 Easy Street, Carefree 85377. For information call 480-488-8400 or visit www.kiwaniscarefree.org.
Welcome to Cave Creek Football!
Registration is open and available online for the 2015 Fall Season. Visit www.cavecreekfootball.com. Cave Creek Football offers divisions for player's ages 5 – 14. Divisions: Tiny Mite, Mitey Mite, Cadet, Junior Pee Wee, Pee Wee, Junior Midget and 14U. Live Registration Walk-ins April 11, May 9 and June 13 from 9 a.m. – noon at Desert Willow Elementary Multipurpose room.
"Golf-Fore-Charity" April 27
Don't miss the opportunity to enjoy a great round of golf while supporting St. Vincent de Paul and other local charities. The Knights of Columbus, Council #11116 from Carefree will be holding their 14th annual Golf-Fore-Charity event on two of North Scottsdale's premier private golf courses: Troon Country Club and Desert Highlands Country Club on April 27. An 11:30 a.m. shotgun start begins the day that includes lunch, dinner, Holes-in-One for cars and $10,000, silent and live auctions, a raffle and awards. The cost of $300 per golfer (foursomes are $1,200) includes an afternoon program for each golfer's guest commencing at 3 p.m. which will include wine tasting, an auction preview and other activities. For more information visit www.golf-fore-charity.org.
20th annual Sonoran Stars in beautiful new venue May 2
The event will be held near Scottsdale and Jomax roads. This "Desert Foothills" location allows the event to grow, and provides gorgeous desert surroundings.

There will be a wonderful dinner by Chef Tony Rea, a silent auction, a live auction with auctioneer Letitia Frye, and the release of a rehabilitated owl by Wild At Heart. This year, there will also be dancing under the stars with music by Western Fusion and professional dancers from Fred Astaire Dance Studios.

Put on your dancing boots and treat yourself to a great evening! Tickets and sponsorships are available. Call 480-488-6131 or email info@dflt.org. Don't miss the fun!
Second annual Creeker Reunion
Saturday May 9 at 1 p.m. Mogollon band will entertain. Buffet $10. Hosted by Marla McGee at the Tap Haus.