APRIL 1, 2015
Don't miss "Art in the Garden!" on Saturday, April 18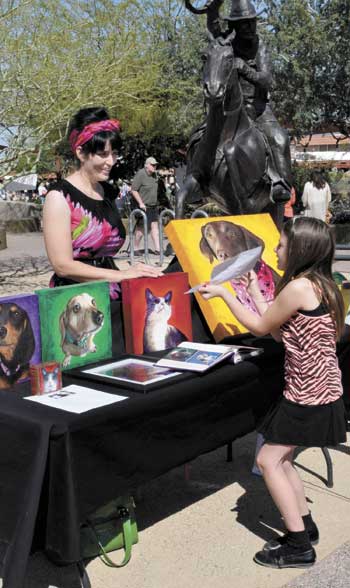 Pictured at last year's Art in the Garden at Carefree Desert Gardens is professional artist Chela Mischke exchanging ideas with a young "artist to be." Art in the Garden will be held at Desert Foothills Library on April 18. Courtesy Photo by Vickilyn Hussey


CAVE CREEK – Art in the Garden will be at Desert Foothills Library on April 18, 10:30 a.m. to 1:30 p.m. What better way to celebrate Spring than with art, free entertainment and fun family activities!

Special "Art in the Garden" events in the Library include dynamic storytelling in the Community Room. From 10:30 -11:30 a.m., the mellifluous Fran Rosenthal will tell one of the most popular stories of all time, "Peter and the Wolf." From 11:30 a.m. - 1:30 p.m., school principals and other dignitaries will introduce their favorite books. Out on the Library's Waterfall Terrace, there will be a continuous flow of music, dance, choral and theatrical performances. Join in the festive atmosphere by dressing creatively or in costume. It's not required, but it sure is fun!

There will be an Education & Community Services and Sonoran Arts League "Child's Play and Kid's Club Art Contest" Winners Art Exhibition, in addition to a wide array of informational tables hosted by community organizations. Expect an exciting assortment of unexpectedly wonderful art for sale to benefit local arts organizations.

A highlight of Art in the Garden is the Sonoran Arts League's "Art Stuff Sale," which offers everything from art supplies, framing materials, books, and props. You'll find china, jewelry, linen ... all sorts of intriguing and useful things!

Show up on Saturday, April 18 at the Desert Foothills Library ready to enjoy and make art!