MARCH 25, 2015
Childsplay Celebrates 2015 with The Three Javelinas Gala
Saturday, May 2, 2015; Tempe Center for the Arts, 700 W. Rio Salado Parkway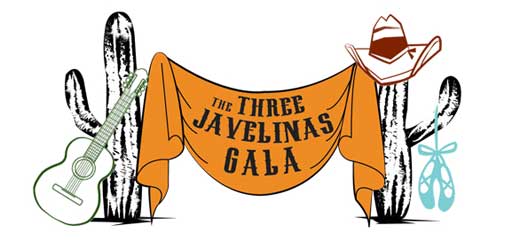 TEMPE – Childsplay will hold its 2015 Childsplay Celebrates Gala on Saturday, May 2, 2015. Held at the Tempe Center for the Arts, guests at The Three Javelinas Gala will be treated to a cocktail hour, live music, silent auction, southwestern photo booth and a VIP production of The Three Javelinas. VIP guests will also enjoy a southwest-inspired dinner catered by Fabulous Foods.

VIP Tickets are $250. General Admission Tickets are $100. All tickets can be purchased online at www.childsplayaz.org/GALA or by calling Jodie Weiss at (480) 921-5761.

The Three Javelinas GALA is chaired by Adrienne Schiffner. Committee members include Cathy Treat, Kate Janson, Wendy Cardiff, Amanda Stolee, Shelley Cohn, Sonja Saar, David Kest, Lisa Hobson, Mary Corrigan, Tommy Strawser, Jodie Weiss, Jenna Forbess, MaryLisa McKallor and Gretchen Schaefer.

The Three Javelinas Gala is sponsored by Alliance Bank of Arizona, APS, First Fidelity Bank, KPMG, Lewis Roca Rothgerber, Snell & Wilmer Law Offices and US Airways.

TICKETS: $100 GENERAL ADMISSION includes: Hors D'oeuvres, Beer & Wine, Silent Auction, Live Music, Cork Pull, and a Performance of Childsplay's The Three Javelinas!

$250 VIP TICKETS include: Same as General Admission + VIP Dinner from Fabulous Foods. Purchase at www.childsplayaz.org/GALA.

For more information, visit www.childsplayaz.org.