MARCH 25, 2015
Community briefs
Triple R Horse Rescue to benefit from boot fund-raiser
The Boot Barn will hold a fund-raiser on Saturday, March 28, from Noon – 4 p.m. to benefit Triple R Horse Rescue, a 501(c) 3 organization that rescues, rehabilitates and re-homes horses surrendered to its care. The Boot Barn is located at 8698 E. Raintree Drive, Scottsdale. The fund-raiser will feature raffle items donated by western retailers. Triple R Horse Rescue will bring a few previously adopted miniature horses to the event.
Be a trailblazer and attend opening of the Kovach Family Nature Trail
The public is invited to the official opening of the Kovach Family Nature Trail in the McDowell Sonoran Preserve. The free event kicks off with an official ribbon cutting at 9 a.m. Saturday, March 28, at the Lost Dog Wash Trailhead, 124th Street north of Via Linda. The Kovachs donated money for the trail's creation. The celebration continues through 2 p.m. with various activities including desert wildlife demonstrations, self-guided walks on the new trail, guided spring wildflower hike, scavenger hunts, the Singing Cowboy and raffles.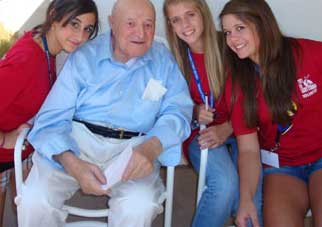 Teens wanted for summer volunteer program
The city of Scottsdale enlists the help of more than 100 teen volunteers each summer.

The Youth Corps is a summer teen volunteer program for ages 13-17. Volunteers can expect 10-20 hours per week from June 1 - July 24. Volunteers must be available six out of the eight weeks.

There are a variety of locations that include recreation programs, aquatics facilities, senior centers, citizen service centers, recreation centers, and City of Scottsdale offices.

Applications must be submitted by Apr. 30. They can be found online or you can call 480-312-8376 with questions or to have an application sent to you.
Coolwater Christian invites community to Holy Week and Easter Services
The church is located at 28181 N. 56th Street on the SE corner of Dynamite and 56th Street in Scottsdale. Pastors Rene and Rick Jensen will officiate at all services.

On Sunday, March 29, the 9:30 a.m. Palm Sunday service will focus on "The Cry of the Whole Congregation." Drawing directly on scripture, this service features a dramatic remembering of Jesus' last days. At 7 p.m. on Maundy Thursday, April 2, we will celebrate Jesus' last meal.
Anytime on Good Friday, April 3, come and seek a quiet encounter with God by walking Coolwater Christian Church's Meditation Trail. Prayer guides will be provided. On Easter Sunday, April 5, there will be a 7:30 a.m. Son-Rise service, followed by an Easter breakfast at 8:30 a.m. There will be a traditional 9:30 a.m. Easter worship service. Following the worship service will be a children's EGGstravaganza – a fun event for children of all ages!!

If you would like additional information, please call 480-585-5554.
Non-Profit Seeking Local Host Families for High School Exchange Students
ASSE International Student Exchange Programs (ASSE), in cooperation with your community high school, is looking for local families to host boys and girls between the ages of 15 to 18 from a variety of countries: Norway, Denmark, Spain, Italy, Japan, to name a few. Host families welcome these students into their family, not as a guest, but as a family member, giving everyone involved a rich cultural experience. The exchange students have pocket money for personal expenses and full health, accident and liability insurance. ASSE students are selected based on academics and personality, and host families can choose their student from a wide variety of backgrounds, countries and personal interests.

To become an ASSE Host Family please call the ASSE Western Regional Office at 1-800-733-2773 or go to www.host.asse.com. Students are eager to learn about their American host family, so begin the process of welcoming your new son or daughter today!