MARCH 25, 2015
One-of-a-kind Brazilian masterpieces create furniture seekers' interest


CAVE CREEK – Big Bronco, a nationally known western and Southwestern furniture store that procures some of the most distinctive furniture and accent furnishings in metropolitan Phoenix, has received several stunning furnishing collectibles that will never be seen in the Valley – or elsewhere – again.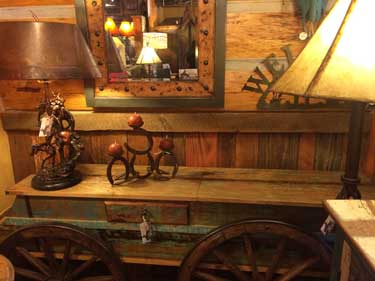 According to says Faith Weinberg, owner of Big Bronco, a 15-year-old furnishing retailer in the foothills of Cave Creek, the business has acquired several pieces from the renowned Dennis Hendricks Collection. The furniture showcases 100-year-old Brazilian hardwood reclaimed furniture made from old farm implements and equipment and parts of old sugar mills and are embellished with copper accents, resulting in striking desks, tables and carts.


"This furniture is so exceptional and it is handcrafted with excellence and an eye for quality and breathtaking beauty," says Weinberg. "We are so fortunate to have the last of Hendricks' world class furnishings in our store in Cave Creek."

Big Bronco is one of Arizona's signature western and Southwestern Furniture and accessory stores. It is located at 6602 E. Cave Creek Road in Cave Creek, Ariz.