BY LINDA BENTLEY | MARCH 18, 2015
Meeth resigns from planning commission over election results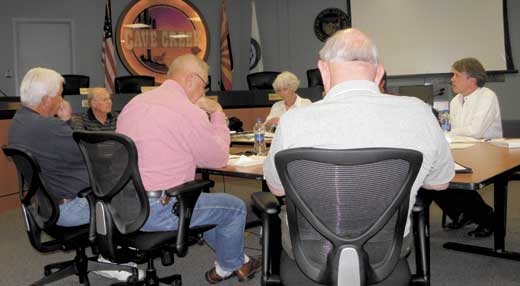 The planning commission held a workshop last Thursday to review and discuss the process for updating the general plan and decide if they wanted to ask council to extend the process to August 2016. Photo by Linda Bentley



CAVE CREEK – The day after the recall election, Commissioner Grace Meeth, who was just recently appointed, resigned from the planning commission.

Meeth's brief letter of resignation stated, "I was appointed to the planning commission by elected officials whom I respected and whose agenda served the town, not themselves.

"I cannot support the new council, the majority of whom deceived and misled the public to get elected. I therefore tender my resignation from the planning commission, effective immediately."

During last Thursday's planning commission workshop, Planning Director Ian Cordwell explained the statutory process for updating the town's general plan, which requires it be updated every 10 years.

The general plan was last updated in 2005.

Cordwell explained the timeline and said they could continue on the existing schedule or ask council to approve an extension from 2015 to August 2016 to give them more time for review.

Chairman David Smith said if the commission felt that was a wise way to go they could make that recommendation to council.

Smith said there were concerns about the land use elements.

Commissioner Bob Voris said the land use section was about 40 pages and suggested moving the public comment period back.

Cordwell clarified public comments are not on the completed general plan but rather for gathering input.

Vice Chair Eileen Wright asked if the deadline could be moved to August 2015 instead of August 2016.

Cordwell stated they can always get it done sooner.

Commissioner Dan Baxley said he was under the impression they were going to be discussing the process and stated he wasn't ready to review the land use elements.

Baxley said he would argue for something more short term, as Wright suggested.

Smith said he essentially agreed and hoped not to kick the can down the road, but stated his personal preference would be to extend the timeline a bit.

Voris passed out what he called a "reasonable schedule" for all the material they needed to review plus "slopover."

He said he was unprepared to discuss elements of the general plan and was under the impression the workshop was to discuss the process.

Cordwell said this is the time to gather input from the public, beginning with the public meeting on Thursday, March 19, and bring it all to the public hearing on April 16.

Wright stated, "Because this is such an important document, we need to commit our lives to it," and suggested an expedited schedule rather than an extended one.

Baxley said, "I don't have a problem with meeting here all day to get this done," and suggested "grabbing an all-day session."

Smith said one of the issues the planning commission has is coming up with what they think is a good document but council not having adequate time to review it.

He suggested perhaps holding a joint session with council and stated the new council they'll be working with may want more time.

Commissioner Bruce McNeil said he had conflicts with two of the dates, stating he will be in federal court in Colorado.

However, McNeil said he liked the timeline and wondered if anyone else had conflicts.

Smith said their meetings didn't have to be on Thursdays and agreed they would provide staff with dates they can't make it from April 16 on.

Wright said she didn't agree with putting this off until April 16.

Cordwell stated they were free to amass input, including their own, between now and then.

McNeil said he was all for starting this sooner rather than later.

Cordwell said Thursday, March 19 is a public meeting to kick off the process, not a public hearing, and the commission cannot make any changes to the general plan until April 16.

Baxley said 30 days was ample time to prepare for public hearings.

Smith said that would give them enough time to digest the input from the March 19 public meeting and his preference is to complete the process by the original schedule.

Smith said he was not in favor of meetings consisting of "jaw boning" that were not productive and stated, "The better input we get the better the product."

He said, "On the 19th, we will advise the public there will be another opportunity to provide input on a certain date, if there's interest. I think we're coming up with a process."

The commission then proceeded to review the "redlines" made by staff to update the general plan, reflecting changes that had already been approved.

Wright began offering changes she wanted to make to the land use elements section until she was again reminded they were not there to recommend changes to the general plan at this point in the process.