MARCH 18, 2015
AZGFD Outdoor Expo, March 28-29
PHOENIX – Mark your calendars! The Arizona Game and Fish Department Outdoor Expo will be held Saturday, March 28 and Sunday, March 29, at the Ben Avery Shooting Facility in Phoenix. Admission and parking are free.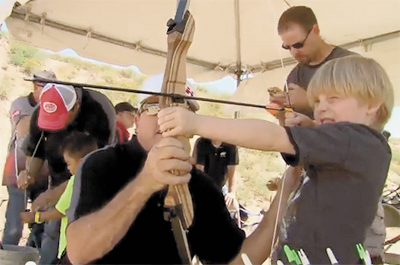 There's hands-on fun for all ages. See all sorts of live wildlife. Check out the huge kids' fishing tanks. Learn target archery and try other shooting sports in a safe, supervised environment on the range. Get a feel for specialty shooting disciplines like clay target, cowboy action, practical pistol, black powder, and air gun.

Don't miss the always popular cowboy mounted shooting competition. See OHV and ATV exhibits. Give kayaking a try at the "Lake Paddlemore" kayaking pond. Hike a field course and learn cool camping tips. Get information about boating and how to stay safe on the water. Talk to experts about wildlife, hunting and fishing tips, and more.

Visit with more than 150 exhibitors, including outdoor recreation and conservation groups, government agencies, and commercial vendors of outdoor products and services. Bring some cash for the many food and beverage concessionaires that will be on-site, or for the commercial vendors who will be selling outdoors-related goods or services. Some of the target shooting venues have a nominal charge for ammunition.

Expo hours are 9 a.m. to 5 p.m. on Saturday, March 28, and 9 a.m. to 4 p.m. on Sunday, March 29. The 2015 Outdoor Expo is easy to get to, located on Carefree Highway, about 1/2 mile west of I-17 in Phoenix. For more information, visit www.azgfd.gov/expo.