BY LINDA BENTLEY | MARCH 11, 2015
Creekers have spoken! Trenk slate given the boot
The election Trenk's out-of-town money couldn't buy
CAVE CREEK – Unofficial election results (posted HERE) for the recall election, which appears to have drawn the largest voter turnout in Cave Creek history, has the entire slate, consisting of Vice Mayor Adam Trenk and councilmen Mike Durkin, Reg Monachino and Charles Spitzer, booted out of office in favor of their challengers: Susan Clancy, Dick Esser, Steve LaMar and Mark Lipsky.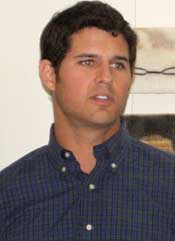 Trenk (l) lost by the largest margin of all, with Monachino coming in as the second most unlikable.

Trenk, despite spending $27,186, the majority of which came from out of state and out of town, to get elected to council and then an additional $12,172 (through Feb. 26), primarily from out of state, was unable to retain his seat after citizens called for his ouster along with Durkin, Monachino and Spitzer.

Trenk made history in Cave Creek by spending more money than all those before him combined to get elected to council.

And all that money got him was two votes more than Councilman Ernie Bunch, who didn't spend a dime.

According to Trenk's Pre-Election campaign finance report, for the period ending Feb. 26, Trenk had $6,724 leftover from his previous campaign.

To fight the recall, he received an additional $5,920 in contributions, of which only eight came from Creekers.

The local contributions totaled $2,070, over half of which was comprised of two donations – $900 from Anna Marsolo and $500 from Michael Beckham, DDS.

Trenk's tenant on Highland Road also kicked in $200.

The balance of Trenk's contributions totaled $3,850, with $2,250 from friends and relatives in New Jersey, $600 from New York, $500 from an individual in Boca Raton, Fla. and $500 from an individual in Shreveport, La.

And, while Trenk and his fellow slate members balked at being called a slate, they campaigned as a slate and all contributed to Sara Vannucci's Conservative Creekers for Fiscal Responsibility Political Action Committee (PAC), which campaigned on behalf of the slate with Trenk donating $2,291.82, and Durkin, Monachino and Spitzer donating $539 each.

One other big donor to Vannucci's PAC was Michael Chutz, the Pennsylvania resident who endorsed the slate when they originally ran for election, with a $1,691.82 donation.

As of Monday, close to 2,000 ballots had been returned, which appears to be a new record for Cave Creek, beating out previous record turnouts for Spur Cross and, more recently, Walmart.