BY LINDA BENTLEY | MARCH 11, 2015
Animosity on display in Carefree as another councilman resigns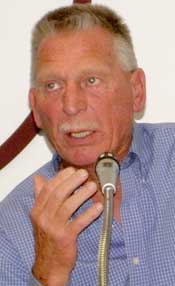 CAREFREE – During Tuesday night's Call to the Public, Councilman Glenn Miller (r) left to dais to accuse fellow Councilman Mike Farrar of a conflict of interest.

Miller stated he felt it was his fiduciary duty because Farrar, who is a commercial real estate broker, has numerous real estate signs around town and at one point in time he suggested the town purchase property for a parking lot.

Miller said he was "so startled" by Farrar's statements to move the cultural center to another parcel around the sundial.

Miller demanded a legal opinion from the town attorney regarding Farrar, whom he believed should recuse himself from any involvement in economic development discussions.

Jerry Wetta also spoke to say he passed out an article from the Charlotte Observer to each member of council about the city of Charlotte building a NASCAR Hall of Fame as a draw to revitalize the city.

According to the article, the museum's commitment for sponsorships dipped significantly from $1.5 million in 2012 to $110,000 for fiscal year 2015.

Concessions were made by Bank of America and Wells Fargo to forgive $17.6 million in interest and principle in exchange for a $5 million payment because their chances of getting their money back were slim.

Wetta suggested whatever the town decides to do should include a 50-year ground lease.

He said, "It sounds like Ed Lewis needs us more than we need him. If the project is worthwhile, it should stand on its own."

Aaron Grenley spoke about two issues. The first was regarding the cultural center, for which he said the citizens of Carefree should be able to vote if they even want it.

The second was dealing with the inequity of sales tax compared to that charged in neighboring Scottsdale.

Grenley said the difference would only amount to around $70,000 and he would like to see Carefree reduce its tax rate to the same level as Scottsdale.

Jim Van Allen said he was sorry to hear Councilman Marty Saltzman had resigned from council and suggested opening up applications again for the now two vacant seats on council.

He said, with budget tasks coming up ahead they need to have a full slate on council.

John Traynor raised some procedural issues. He said in attempting to listen to the recordings made of council meetings, most microphones didn't appear to be working.

He also addressed the issue raised by Van Allen at a previous meeting that e-mails sent to council@carefree.org were not being distributed to anyone.

Town Administrator Gary Neiss assured Traynor the problem had been fixed and the e-mails are now distributed to every member of council.


Acting Mayor Les Peterson (l) announced Saltzman's resignation to become effective when his replacement is seated.

Peterson said Saltzman has been the voice of reason on council and resigned due to health problems.

Councilman John Crane asked if they had a new date to select a new council member.

Peterson said he would like to expand the search for interested parties to apply now that two seats are open.

Councilwoman Melissa Price suggested a cut off of the following Monday and perform interviews on Wednesday.

She said, "We already have five applications."

Farrar said he thought 10 days was reasonable.

Miller said, "We already have five good candidates. We only need two."

Peterson stated he would like to give people who were on the fence about applying an opportunity now that there are two openings.

Council decided on a March 13 deadline with a special council meeting to be held on Tuesday, March 17 to make their selections.

Crane recapped council's previous discussion regarding the selection of a new mayor and said, "If you look at our town code it's very confusing."

He said Neiss suggested having Attorney Bill Sims look at their legal options and provided Sims the scenario with the resignation of Mayor David Schwan along with a copy of the town code.

Sims explained the legal opinion he provided council and said he was saddened by the circumstances involving the mayor.

With the new consolidated election laws, Sims said it is now illegal to call for a special election to elect a new mayor.

He said he looked at town code, state statute and the Arizona Constitution to form his opinion and concluded their only real remedy was to determine the mayor was absent due to illness, in which case the vice mayor becomes acting mayor until the November 2016 election.

Price suggested waiting until the new council is seated and have council take another vote.

She thanked Sims and said, "I appreciate your opinion, but I don't accept it."

Although state statute implies council can call a special election, Sims said they can't because of the new consolidated election law.

He also pointed out the town code is "all screwed up" because it was never addressed when the town went to direct election of mayor."

Miller and Price argued with Sims and cited sections of statute, all of which Sims noted were trumped by other sections, permissive wording or town code.

He said it was sad to see such division on council.

Sims pointed out the town needs to have a mayor because only a mayor may declare curfew or exercise other powers in the event of an emergency.

According to Sims' solution and opinion, the mayor is technically not resigned just disabled and absent.

Price argued she received a different opinion from the League of Cities and Towns and provided it to Sims.

Sims read it and said, "I don't know where they got this – they don't cite anything."

Price said she would like to suggest council get another opinion.

Farrar asked Sims if he was coerced in any way.

Sims said, "I just tell the truth. I tell you what the law is. Currently you have a leaderless town."

During public comment, Jim Peirce claimed the town could call for a special election and stated, "Cave Creek is having one now."

He said he was puzzled why council was opposed to holding an election and asked why it was "lawyer shopping."

Peirce said, "I'm guessing most of you think you can't get elected mayor."

Sims pointed out Cave Creek is holding a recall election, which is different.

John Traynor said he disagreed with Sims and stated, "We're dealing with the letter of the law versus the spirit of the law. When the town changed to electing the mayor they neglected to update the town code."

Traynor said the issue on the table was not about filling the mayor's seat but about economic development in the town.

Farrar moved to accept Sims' opinion.

Crane, who seconded the motion, said it was more important to follow correct procedure and Sims produced a solid argument.

Farrar said he agreed with Traynor that the division on council was about a certain economic development project, not economic development.

Peterson said he also agreed with Traynor.

Council voted 3-2 to accept Sims' opinion with Price and Miller, who said, "I will not work for Les Peterson. I have my reasons," dissenting.

Town Attorney Michael Wright affirmed with its vote, Peterson will be acting Mayor until the next regular election in 2016.

Kevin Kugler and Matt Klyszeiko from Michael Baker International, the consulting firm engaged by council to produce a Carefree Village Master Plan, provided council with an update and some preliminary recommendations, which they said ranged from low budget impact to more costly ones.

Kugler said the town has no common tagline to support a brand for the village center, such as California's "Carmel by the Sea" and San Diego's "Gas Lamp District."

Klyszeiko said they focused their recommendations on the authenticity of Carefree and stated, with their market analysis, "we cannot fake revitalization."

He said there was no one silver bullet for revitalization but introducing higher density housing in the village center is a very important component.

Klyszeiko suggested rehabilitating underutilized buildings and said, "For example, Los Portales is a beautiful building with great potential."

Miller asked, "Who's going to pay for this?"

Klyszeiko responded, "It's a matter of incentivizing property owners to have skin in the game."

There was conversation about Rod de Szendeffy, who owns Los Portales, offering the use of his building to ASU for a cultural facility free of charge, providing they make the improvements and pay the utilities.

Miller said the building is full of asbestos and would probably cost $1 million.

Again he asked, "Who's going to pay for this?"

Klyszeiko also stated the town needs to improve wayfinding and develop a "more robust" sign package, adding, "There are firms that specialize in wayfinding."

Klyszeiko said the next community workshop will be held in mid to late March with the final Village Master Plan to be completed in April.

Town Planner Stacie Bridge-Denzak provided council with an update on the Maricopa Association of Governments joint bike lane project with Cave Creek.

She said the cost share is 94.3 percent federal money and 5.7 percent in local money, with Carefree utilizing HURF (Highway User Revenue Funds) for its share.

Bridge-Denzak said the project is 8.4 miles in total with 5.3 miles in Carefree.

The project will start during this summer and is expected to take six and a half months to complete.

Council voted unanimously to award S&S Paving a contract to make storm damaged road repairs.

Neiss said the town received 12 inches of rain over a three-week period and the town would pay for the repairs out of contingency funds until it receives reimbursement in federal and state grants.