My View


BY DON SORCHYCH | MARCH 11, 2015
The future is brighter now in Cave Creek
The recall election ended yesterday and good men and a woman won. So all the prayers we heard about worked like prayers are supposed to. But the volunteers who helped and the candidates worked hard to earn their place on council. So your new representatives on council are: Susan Clancy, Dick Esser, Steve LaMar and Mark Lipsky.

There are approximately sixty votes yet to be counted, but I believe all four challengers are in safe harbor. Here are the unofficial results:

VOTES
Susan Clancy 1,073 56.92 percent Adam Trenk 810 42.97 percent
Dick Esser 1030 54.73 percent Reg Monochino 851 45.22 percent
Steve LaMar 999 53.14 percent Charlie Spitzer 879 46.76 percent
Mark Lipsky 962 51.31 percent Mike Durkin 909 48.48 percent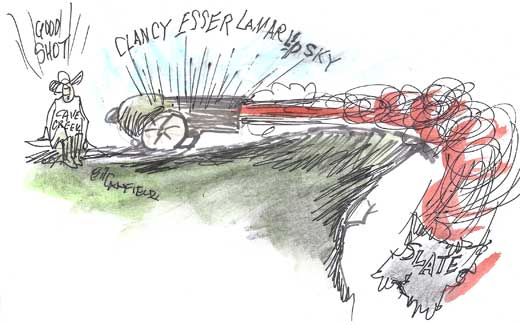 These winning candidates are there for the right reasons; they want to keep the good in Cave Creek and improve what needs improvement. They are not on a power trip like the slate was, nor would they even consider what some outsiders wanted, which was to sell off town assets. I think the voters were responding to deny the practice of New Jersey politics in Cave Creek. They did not want Cave Creek to be the stepping stone for Adam Trenk's political ambitions either, with his legal abuse of anyone he deemed stood in his way – all the while incurring huge costs to our town.

The new council will have a full agenda at every meeting. I have not discussed what I think they should do, but if I was in their shoes, here would be my priorities: First, eliminate the current town attorney firm, Dickenson Wright, formerly Mariscal Weeks and hire a competent firm.

Second, deal with the deteriorating and unsafe roads. Third, stop closing roads. This is an abuse of all citizens. Businesses should be required to have sufficient parking and white tents should be restricted to alleviate the shortage of parking.

Fourth, it is clear businesses with a cash income are escaping taxes. For instance, our relatively small Walmart has the greatest liquor sales of all Walmarts in the state and bars are buying most of the stock. Aggressive audits should be conducted with strict adherence to existing liquor tax laws. Fifth, the town should return to a five day work week for myriad reasons.

Sixth, cancel all commissions and reconstruct them with non-dark-side rabble rousers. The town is bursting with able people who want to serve Cave Creek honestly without being vindictive. Want a list? I have one. Mayor Vincent Francia's latest misfire has caused a reversal of his stature, not only in Cave Creek but in the area. The writing has always been on the wall but political slime works. It has probably been more than ten years ago that a person of stature in Cave Creek said, "I have never understood how a person who is as preachy and who claims he is a devout Buddhist could work for a race track." I had no answer then, but I do now.

The slate got into office because Councilmen Jim Bruce and Shelley Anderson withdrew their candidacy and Dick Esser, who withdrew but then changed his mind less than 24 hours later, was sued to be removed from the ballot. Francia quickly showed his colors when he went to Kiwanis and in his annual State of the Town speech said the slate council was the best he had ever worked with. Hello? The town is still facing a potential legal claim of $3 million and $10,000 each month to defend against that claim and Trenk is being investigated for illegally signing a petition sheet using a false name. It is no surprise the name was a famous actor who played the part of a mobster.

The out-of-control Trenk got away with shenanigans while Francia preached from the dais that Trenk was his friend. He didn't seem to mind when Trenk secretly recorded at least one meeting between them. Francia also had a penchant for publishing emails and articles written by others. He sent us an article, conceded that most of it was written by a member of the Water Advisory Committee (WAC or maybe WACKY). Their claim of a problem involving the water treatment plant was fraudulent. Francia was told it probably should not be published in his name since it was principally written by someone else and if we published it, I would print a rebuttal. So he printed and distributed the letter containing the false statements at taxpayer expense, even though it was political in nature.

But then, the stunning endorsement of the Trenk slate by Francia! Of course on the heels of the written endorsement the statement appeared on flyers, Facebook, etc. Francia's defense of a "frozen moment" is political nonsense. Trenk reportedly felt the slate was losing and asked for the endorsement. Francia has another fourteen or so months to serve as mayor and claims he will not run again. He was clearly mentoring Trenk for that position. He has claimed before that he was done but this time he committed political suicide. And if he thinks Trenk could win in this town after all of his screw ups, he is dumber than I thought which is dumber than dumb.