BY LINDA BENTLEY | MARCH 4, 2015
Early polling predicts Trenk slate will be ousted
Trenk recommended the Rose Law Group to his friend Thorstenson for the purpose of filing a $10 million claim against the town
CAVE CREEK – Cave Creek Caring Citizens Political Action Committee (PAC) conducted polling of those who have already returned ballots at the midway point of the March 10 all-mail recall election.

With over 1,100 ballots returned as of last Tuesday, Vice Mayor Adam Trenk and his fellow slate of recalled councilmen, Mike Durkin, Reg Monachino and Charles Spitzer, are all predicted to lose the election with Trenk being rejected by the widest margin.

Some of the top reasons given by those polled included: The Rose Law Group, Trenk's employer, filing a $10 million claim against the town by Trenk's friend T.C. Thorstenson, upon Trenk's recommendation; Trenk signing the late actor James Gandolfini's name to his own recall petition, which is currently under investigation by the Maricopa County Attorney's Office; Trenk's lack of residency; and the slate's link to Trenk.

There are numerous reasons why voters may be rejecting Trenk and his slate.

Although residency, for one year immediately prior to the election and residency while serving on council, is a statutory requirement, Trenk actually testified in court that he didn't live in Cave Creek during a legal challenge.

Trenk testified he came to Cave Creek on weekends, did some drinking and because he was too drunk to drive home to Scottsdale, he stayed overnight in a trailer on the property or in a spare room of a house he owns but is leasing out to someone else.

Yet, the judge ruled because Trenk intended to live in Cave Creek, he could remain on the ballot.

Trenk owns property in Cave Creek but his neighbors claim he doesn't live there and only see him there one or two days on weekends. The rest of the time his windows are all secured on the outside with roller shutters.

During a forum hosted by the Rancho Mañana Homeowners Association, Trenk stated it was not his proposal to stop supplying water to Rancho Mañana Golf Course. However, he said he supported it.

Trenk has a history of not recusing himself from discussion and voting when items before council involve friends and/or clients, such as Thorstenson.

As the town discusses legal issues involving Trenk's buddies during executive sessions, of which this council has held more than the previous eight years combined, Trenk doesn't appear to be recusing himself.

Is he then discussing with his friends what the town attorneys are advising council?

Trenk introduced and voted on a resolution adverse to APS to indicate town support for a position before the Arizona Corporation Commission that would benefit his employer's countless solar clients.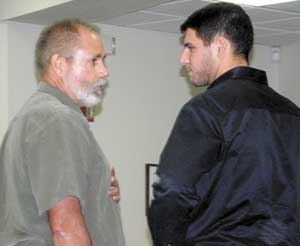 Trenk is friends with Arek Fressadi (left), dubbed by many as a vexatious litigant, who has sued the town on several occasions, including a lawsuit currently pending.

Even though he currently lives in Tucson, Fressadi supports the Trenk slate on a blog he hosts and uses extremely vulgar language against perceived enemies, which includes Sonoran News.

Trenk sends Fressadi information which Fressadi readily complies with in posting, adding his own commentary, blurring the line between reality and fiction.

Trenk recently sent Fressadi a copy of an e-mail to Mayor Vincent Francia suggesting the town should spend money to perform a forensic investigation of former Town Manager Usama Abujbarah's e-mails, which was also the subject of a motion filed by the town in the pending lawsuit against the town.

In posting it to his blog, Fressadi embellished Trenk's e-mail by recommending Town Clerk Carrie Dyrek be suspended until they learn the outcome of the audit, accusing Abujbarah with criminal behavior and suggesting Dyrek may have been complicit.

However, Judge Douglas Gerlach apparently determined the motion was frivolous, ordered it denied and stated Abujbarah needn't bother responding to it.

Although this newspaper had nothing to do with initiating the recall, Trenk continues to insist the recall is driven by a "persistent campaign from a small, misguided group spearheaded by the Sonoran News."

Trenk states on his website, "Though my colleagues and I have been successful in pushing back against their influence long enough to create a compelling track record and consistently deliver on our 2013 campaign objectives, we are now forced to divert both time and resources away from the community."

The only resources diverted away from the community are those for which Trenk introduced that he and his slate voted to pass.

He refers to the slate as "my team" and claims they have "made measurable strides toward securing our community's future."

Trenk's "team," for starters, as their first order of business, fired former Abujbarah and hired his friend Rodney Glassman as interim town manager, in a manner that appears to have been a blatant violation of Arizona's open meeting law.

To date, that move alone has cost the town over $250,000 in legal fees, while exposing the town to $3 million in potential liabilities.

Glassman, who was inexperienced and unqualified for the position, is said to have cost the town approximately $140,000 in salary, benefits and expenses during his brief seven-and-a-half-month tenure.

Trenk and his slate also voted to hire consultants for $80,000 to assess road conditions in town to load into "free" road maintenance software, which the town, until the consultants made a presentation to council about how the data should be used, was planning to use incorrectly.

Meanwhile, the roads throughout Cave Creek continue to suffer from lack of maintenance and strained resources.

Instead, under Glassman's watch, Trenk and his slate voted to purchase two stainless steel horse monuments for $20,000.

It's not clear exactly who authorized the solicitation of the public art in the first place, since the only item that ever came before council was to select which artist's work they wanted, not if they wanted public art at all.

Trenk, who has been extremely vocal about his hatred for Sonoran News, through Glassman, pulled all advertising from the newspaper, including all legal ads.

So, while Trenk and his slate tout being the most transparent council ever, the town no longer provides important information to its citizens via an instrument that is delivered to every mailing address in Cave Creek.

To make up for it, the town changed its notification system for zoning cases to mail the information to everyone within a half mile of the subject property, a far more costly alternative delivered to far fewer citizens.

Until receiving subsequent advice from the town attorneys, Trenk made use of the town's newsletter, stuffed into utility customers' bills and mailed separately to those who are not utility customers, as a political instrument and a platform to slam Sonoran News.

Glassman hired Patty Pollnow, although unbudgeted, to do some sort of "community outreach" to the business community, with the exception of Sonoran News, a taxpaying Cave Creek business and community newspaper for over 20 years.

Pollnow still contracts her "services" to the town, although at a recent budget meeting Town Manager Peter Jankowski stated he wasn't exactly sure what she does.

However, she is still snubbing Sonoran News, the official newspaper of Cave Creek.

So Trenk, who is buddies with Fressadi, who has sued the town at least five times, recommended the Rose Law Group to his friend Thorstenson for the purpose of filing a $10 million claim against the town.

Trenk's motion to fire Abujbarah, which carried by a vote of only his slate, is costing the town an exorbitant amount in legal fees.

So, when Trenk states on his website, "there is more work to do" to "continue moving Cave Creek forward," citizens are entitled to know how much more that will set them back.

Although this is an all-mail election, for which ballots were mailed on Feb. 12, those who didn't receive, or may have lost, their ballot, may obtain one at town hall and/or drop their ballots off to cast their votes during regular business hours and from 6 a.m. until 7 p.m. on Tuesday, March 10.