MARCH 4, 2015
Cave Creek Museum's "Homes Through Time" Tour set for March 15
Diverse Architecture and Prehistoric Hohokam Homesite Are Focus of Cave Creek Museum's 2015 Tour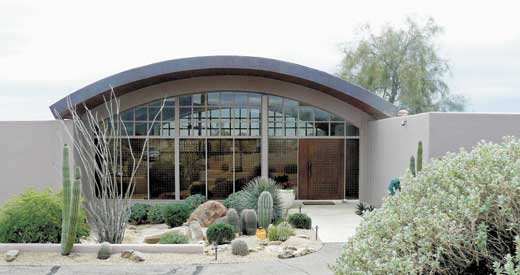 CAVE CREEK – Mark your calendar for Sunday, March 15, 2015 to attend Cave Creek Museum's "Homes Through Time" Home Tour. The popular event takes place from 10 a.m. to 4 p.m. and serves as one of the Museum's biggest fund-raising events.

This year's tour features four unique homes that range from Western traditional to unconventional as well as a prehistoric Hohokam homesite:

Emoff Home: (pictured above) The soaring ceilings and sweeping arcs of this multi-level home seem inspired by the nearby Carefree airport, nurturing the homeowners' love of flight. Built in 1989 and renovated for modern times, this spacious, contemporary home features a dramatic arched roof with towering walls of window on the north and south ends, framing spectacular views of nearby mountains and the unusual rock formations that make up the Boulders Resort.

Galgano Home: Your shoulders will relax as you enter this warm, welcoming home on Peaceful Place. The garden gate opens to an oasis of lush landscaping, expansive views, and quiet corners created among large spaces, all exquisitely designed and crafted by superb artisans.

Snider Home: The street address on Panorama Drive says it all about this elegant southwestern home, perched on the upper slopes of Cave Creek. Feel immediately welcome as you enter the intimate courtyard, cross the threshold, and discover the magic within.

Schubert Home: This Carefree home features unique European architecture and spectacular views of the world-famous Boulders. Details abound in the home, exuding warmth and welcome. Gardens and patios offer intimacy and color to the heart and soul.

Blue Wash Ruins on Casanova Property: Your imagination takes you back 1,000 years or more as you envision the full homes made by the prehistoric Hohokam people who lived at the Blue Wash site, located on private property. Frank Casanova spent more than four decades mapping and excavating this archaeological site behind Tonto Hills. The site has spectacular views, and comfortable walking shoes will be necessary to access the ruins, which are a short walk down a dirt road.

A self-guided tour, the event provides the flexibility to choose the order of which properties you visit. The Museum will provide a pamphlet that serves as your ticket and includes the history and a detailed description of each home. On-site docents will point out additional aspects of each home and the ruins, and provide additional information of interest. Once you have your admission pamphlet, you can start the tour at any of the featured locations.

Tickets can be purchased online at www.cavecreekmuseum.org, at the Museum, 6140 Skyline Drive, or with credit card by phone. The Museum also will open early at 8 a.m. on Sunday, March 15 to sell tickets. Tickets will not be available at the homes.

Tickets cost $35 per person through Wed., March 11. After March 11, tickets cost $40 per person. No pets, food or beverages, or photography will be allowed within the homes and no children under the age of 12 will be admitted. Please note that some of the homes are on uneven terrain and may not be handicap accessible.

For information, call (480) 488-2764 or visit www.cavecreekmuseum.org.