MARCH 4, 2015
11th Annual Taste Of The Foothills Celebration and Cash & Caring Raffle
5-9 p.m., March 19 at el Pedregal, Scottsdale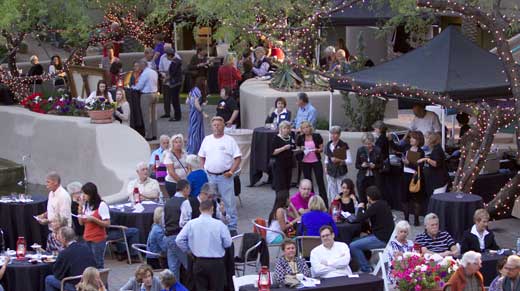 CAREFREE/CAVE CREEK/N. SCOTTSDALE – Support the Foothills Caring Corps and help make a difference at the 11th Annual Taste of the Foothills Celebration and Cash & Caring Raffle.

This non-profit event is the organization's largest fundraiser of the year and will take place from 5-9 p.m., Thursday, March 19, at el Pedregal, 34505 N. Scottsdale Road, in Scottsdale.

Admission to the event is $40 per person without a raffle ticket, or attendees can receive free admission for two adults, with the purchase of a Cash & Caring raffle ticket for $100.

The Taste of the Foothills and Cash & Caring Raffle ensures that the Caring Corps can continue its mission to promote elderly independence and provide programs for neighbors in the community.

These vital services include mobile meals, medical transportation, handicapped accessible van transportation, caregiver relief, shopping trips, social opportunities, a medical equipment loan closet, friendly pet visiting and handyman assistance.

Admission and raffle tickets are on sale now and will be sold at the event. For tickets or information, call Foothills Caring Corps at 480-488-1105 or visit www.foothillscaringcorps.com.

Now in its 11th year, the Taste of the Foothills Celebration has grown into a night filled with festivities including savory tastings from local eateries, as well as live music and entertainment.
AFFINITY, a ten-piece band and musical mainstay for over 30 years, will perform on stage. Live and silent auctions will take place throughout the evening, featuring exclusive getaways and experiential activities.

The Cash & Caring benefit raffle offers over $9,000 in cash prize drawings. Three winners will receive cash prizes. Raffle tickets may be purchased for $100, three for $275 or eight for $500. Participants need not be present to win.

For tickets and more information, call the Foothills Caring Corps at 480-488-1105.