MARCH 4, 2015
17th Annual Litchfield Park Art & Culinary Festival, March 7-8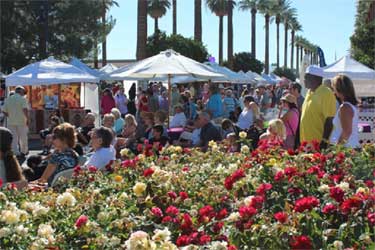 March 7-8
Downtown Litchfield Park
101 W. Wigwam Blvd.
Litchfield Park, AZ 85340
Hours: 9 a.m. – 5 p.m.
Free Admission & Parking

Art, Wine, Food & Music
Forty thousand visitors are expected to attend the 17th Annual Litchfield Park Art & Culinary Festival. The tree-lined streets of downtown Litchfield Park will close to make room for over 200 art and culinary booths, transforming the luxurious resort community into a vibrant street scene bursting with colorful art, lively music and irresistible aromas.

Spend the day exploring the meandering rows of white canopies forming a unique artisan's village offering a wide variety of original arts and crafts, ranging from functional to decorative, and contemporary to Native American. Visit the wine & beer garden for a superb selection of Arizona wines and craft beer, and indulge yourself in dozens of festival eateries and confectionary booths.

Festival highlights include Celebrity Chef Demonstrations, live musical performances and wine tasting. Chefs from the Wigwam Resort will be on hand, as well as local celebrity chefs performing colorful culinary demonstrations.

Wine & Beer Garden:
Six Arizona Wines:
Rancho Rossa Vineyards
Pillsbury Wine Company
Sonoita Vineyards
Wines from California
Wine Tasting Sponsor: Cup Cake Wines

Celebrity Chefs
Eddie Mattney (Eddie's House) 12:45 -1:30 p.m. Television Personality

Wigwam Chefs:
Saturday, March 7
Max Guzman, Chef de Cuisine, Red's Bar and Grill; Wigwam 2:45 – 3:15 p.m.
Sunday, March 8
Chris Knouse, Chef de Cuisine, Litchfield's Wigwam 11 -11:30 a.m.



Chef Eddie Matney "Most colorful Chef"
One of the biggest personalities in town and affectionately known as "the most colorful chef" in the Phoenix Metropolitan area, Eddie Matney's approach to New American Cuisine embraces the belief that the "melting pot theory" applies equally well to cooking as to sociology. According to Chef Eddie, his cooking is a "Mirror of America", multi-cultural, multi-ethnic and utilizes the many flavors that are native to classic American and Mediterranean cooking.

Prior to coming to Arizona in 1986 to open Steamers, Chef Eddie co-owned and operated the successful Stockbridge Café in the Berkshires of Massachusetts. In 1988, he opened the award winning restaurant, Eddie's Gril in Phoenixl. In September 1998, Eddie and his wife and partner Jennifer Blank-Matney opened a new restaurant, Eddie Matney's in the tony Biltmore neighborhood of the Valley. In 2006, Chef Eddie partnered with NBA player Amare Stoudemire to open Stoudemire's Downtown, located right in the heart of Downtown Phoenix. He also was asked by The Golf Club Scottsdale, one of the most prestigious private clubs in Scottsdale, to enhance its culinary offerings during 2007. Eddie has now ventured back to do what he does best; cook, and be an entrepreneur. The buzz abounds regarding his latest venture: Eddie's House, located in energetic downtown Scottsdale, which just recently opened for lunch in addition to dinner.

Chef Eddie is also a co-host on "Your Life A to Z" on Arizona's Channel 3, two times a month. Along with being dubbed the "Number One Chef in the Valley" for five consecutive years by Phoenix Magazine, he has been celebrated for his unique culinary style in a number of prestigious publications including Food and Wine, USA Today, Bon Appetit, Food Arts, Nation's Restaurant News and Money Magazine. While in New York for his dinner presentation at The James Beard House, Chef Eddie was featured on CBS' The Early Show. This is Chef Eddie's seventh year representing the Arizona Cardinals at the prestigious "Taste of the NFL" event. He also found time to co-author Heartfelt Cuisine, which is a quick and easy heart healthy comfort food cookbook. He teamed up with Poore Brothers Potato Chips® to produce and market several seasonal flavors including: Chef Eddie's Mediterranean Spiced Chips, 4 Onion Dip Chips, Chicago Style Pizza Chips, s Pesto Chips and Smokehouse Cheddar Chips. Sunwest Distributors designated Eddie the exclusive representing chef of Viking brand in the valley.

His colorful and innovative approach to the preparation and presentation of food, coupled with his bold individualism and dynamic persona make Eddie a unique force on the national culinary scene.

Feature Artist:
Janet Blumenthal ~ Mood Indigo Art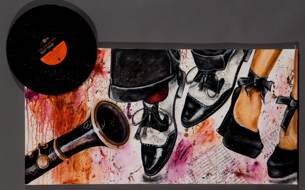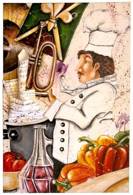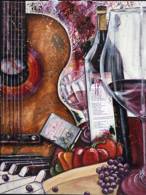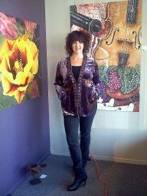 A visual orchestra of bright color and bold imagery brings light to rhythms found dancing across the canvases of Janet Blumenthal's work. The viewer may ask, "Why musical themes?" Janet best describes this in her own words, "Music is a universal language easily recognized and interpreted by all."

Every culture is marked by celebration for life, and often expressed through dance and music. One can feel this rhythm of life by Janet's artistry. The viewer is reminded of this celebration as shimmering light and color bursts onto the canvas. "All creativity comes from a power much greater than humankind. This creativity can be captured on a beautiful canvas, a wonderful melody, or a rhythmic dance. If one person is inspired by this creativity, they have been touched by this universal power. This same power will one day heal the world.

Entertainment: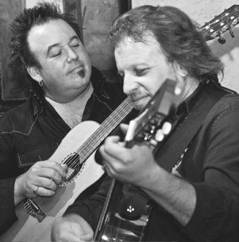 Sahnas Brothers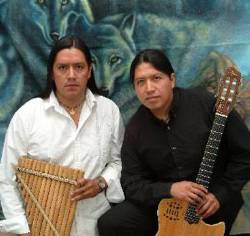 Inka Gold

Saturday, March 7
Sahnas Brothers 10 – 10:45 a.m. & 1:45 – 2:30 p.m.
Blues Man Mike & the Blues Review Band (Mike Anderson) 11:45 a.m. - 12:30 p.m. & 3:30 – 4:15 p.m.

Sunday, March 8
Inka Gold 10 -10:45 a.m. & 1:45 -2:30 p.m.
Mary Hoffman 11:45 a.m. – 12:30 p.m. & 3:30 – 4:15 p.m.