MARCH 4, 2015
Desert Foothills Chapter, Arizona Archaeological Society presents guest speaker David Doyel March 11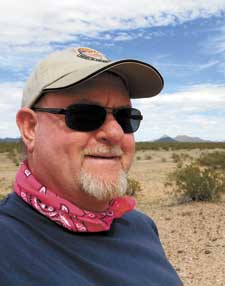 The Desert Foothills Chapter (DFC) of the Arizona Archaeological Society (AAS) is pleased to announce that Dr. David Doyel (left) award winning archaeologist is the guest speaker for the March 11 meeting. The presentation, History and Human Settlement in the Western Papagueria, Southwest Arizona, discusses human use of this desert landscape through time and space that extends back to the Archaic and Paleo-Indian peoples.

The Western Papagueria in southwestern Arizona is one of the hottest and driest places in the United States. This portion of the Sonoran desert extends from the Gila River to the Gulf of California and Ajo Mountains to the Colorado River. Nonetheless, thousands of archaeological sites are recorded and a long sequence of human occupation by multiple cultures is documented in this remote corner of Arizona. Gila Bend probably represents the general boundary of western expansion by the Hohokam and is the traditional home of the O'odham people. Recent research provides new insights into adaptations to this arid environment and also provides information of interest to modern descendant communities that once dwelled there.

Doctor David E. Doyel (Ph.D. University of Arizona) held positions in government agencies and private consulting firms in which he conducted extensive archaeological research across the American Southwest from the United States - Mexico International border north to the Colorado plateau, and from Chaco Canyon (NM) to the Phoenix Basin. Dr. Doyel has over 100 publications and is probably best known for his research in southern Arizona. He recently retired as archaeologist for the Barry M. Goldwater Range, East for the U.S. Air Force.

The general public may attend the meeting at no charge. Refreshments are available at 7 p.m. and the meeting begins at 7:30 p.m. The meetings are held in the community building (Maitland Hall) at The Good Shepherd of the Hills Episcopal Church, 6502 E. Cave Creek Road, Cave Creek. Visit www.azarchsoc.org/desertfoothills.