MARCH 4, 2015
Community briefs
Scottsdale starts Home Hazardous Waste Collection program
As of Sunday, March 1, residential utility customers are able to sign up for home collection of hazardous waste. There are 200 appointments available on a first-come first-served basis. Residents may schedule three appointments per calendar year. There is no additional fee for this service. Solid Waste Management Phone: 480-312-5600 or swservice@scottsdaleaz.gov.
Spring training in Scottsdale kicks off March 4
The crack of the bat, the scent of cut grass and the Cactus League's most intimate venue – there's nothing quite like spring training at Scottsdale Stadium. The World Champion San Francisco Giants first home game will be at 1:05 p.m., March 4. Purchase tickets from 10 a.m. to 5 p.m. weekdays or call 1-877-473-4849. Tickets also are available on the San Francisco Giants website. Before or after the game, stop by the Civic Center Library at 3839 N. Drinkwater Blvd. to view an exhibit featuring the Cactus League Hall of Fame and Giants memorabilia from the 2014 World Series (runs through March).
17th Annual Litchfield Park Art & Culinary Festival March 7-8
101 W. Wigwam Blvd. Litchfield Park, Free Admission & Parking. The tree-lined streets of downtown Litchfield Park will close to make room for over 200 art and culinary booths, transforming the luxurious resort community into a vibrant street scene bursting with colorful art, lively music and irresistible aromas. Spend the day exploring rows of white canopies forming a unique artisan's village offering a wide variety of original arts and crafts and contemporary to Native American. Visit the wine & beer garden for a superb selection of Arizona wines and craft beer, and indulge yourself in dozens of festival eateries and confectionary booths.
Bluegrass sensation Run Boy Run to join Sonoran Desert Chorale March 8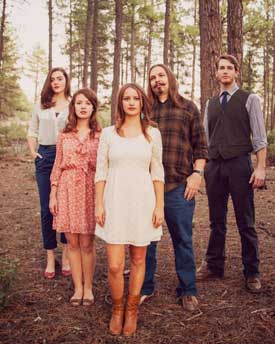 The 60 member Sonoran Desert Chorale will be joined by sensational Arizona bluegrass band, Run Boy Run, for its upcoming March concert titled, Come To The Meetin'. A performance of Come to the Meetin' will take place Sunday, March 8 at 3 p.m. at Valley Presbyterian Church, 6947 E. McDonald Drive in Paradise Valley.

Winner of the Telluride Bluegrass Festival Band Competition and guests on A Prairie Home Companion with Garrison Keillor, Run Boy Run will bring their unique sound to the Chorale's performance of The World Beloved: A Bluegrass Mass plus a selection of early American hymns and folk songs. An additional concert highlight will be Run Boy Run presenting songs from their recent CD release.

Run Boy Run will perform songs from their release, Something to Someone, as well as their debut album, So Sang the Whippoorwill. Existing comfortably in the tension between tradition and the musical frontier, Run Boy Run's all-acoustic format blends bluegrass, folk and the old timey American vernacular with touches of classical and jazz. Their music is rooted in the traditional music of the Appalachian South, but is also definitively present in the 21st century.
Tickets are $18 for adults and $15 for seniors, students and groups of 10 or more. Tickets may be purchased online at www.SonoranDesertChorale.org or by calling 480-305-4538.
Wine Tasting Fundraiser for Foothills Animal Rescue March 14
Rotary Club of Scottsdale North is sponsoring a Wine tasting fundraiser for FAR on Saturday, March 14 from 5 – 8 p.m. at Wine Warehouse, 17025 N. Scottsdale Rd., Suite 140, Scottsdale (North of Frank Lloyd Wright Blvd.) Tickets are $20/person and can be purchased in advance or at the door day of the event. Cash or checks accepted. Checks to be made payable to: Foothills Animal Rescue. For your generosity, you will 1: Taste 4 wines; additional wines (glass or bottle) and beers available for purchase, 2: Eat an assortment of appetizers, 3: Listen to music by the popular, talented "The New Deal", 4: Demonstrate your love for animals. Contact Julia for details: 602.548.3256 or jmcmanus@mndomain.com.
Today's Masters March 26-29
A diverse program of three contemporary works, Today's Masters showcases the continuing development of ballet and its artists, pushing boundaries and elevating the art form. The program includes new works from Artistic Director Ib Andersen, Ballet Arizona dancer Nayon Iovino, as well a reprise from Alexei Ratmansky. Click here for tickets or call the box office at 602.381.1096. Ballet Arizona, 2835 E. Washington St., Phoenix, AZ 85034.