MARCH 4, 2015
Retirement living at its best – Life at The Heritage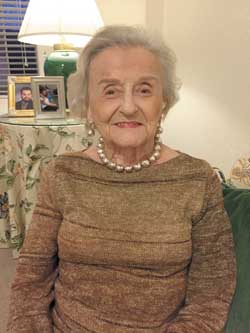 Since moving to this area in 1981, from Syracuse, New York, Elaine Frye (right) has had the wonderful opportunity of being a resident of Carefree. Leaving behind sleet and snow, Elaine took an eye to the warmth of Arizona, and has since called this area her home. As a member of the Pinnacle Peak Golf Club, she enjoyed participating in golf activities several days a week, and volunteered with the Assistance League of Phoenix for 10 years – a rewarding experience helping kids with obtaining outfits for school.

Elaine has four sons and a daughter spread throughout the country - from New York to Cincinnati and North Carolina. "In recent years, my son and his wife had to come to Arizona more often to visit me," Elaine said. Her doctor suggested looking into an assisted living community, and that her kids went to see four different places, "and there was a big comparison between them – in price, services and amenities. I hadn't planned on moving out of my home, but I heard about The Heritage at Carefree from other people who had families there. Heritage was first on the list of places my kids planned to visit, and they were so pleased with what Heritage had to offer. I was alone in my home, and it was time for me to move on. I could no longer drive and needed some additional supervision with various things. I love to go out with the other residents, like shopping, movies, and museums."

At The Heritage at Carefree, Ms. Frye has made some great friends and is happy that three meals are provided, weekly housekeeping, and if nursing services are needed, at the press of a button, services are provided. "I'm very thankful that I am still in good health and able to do many things on my own, but I truly enjoy living at The Heritage – it's very private, and all the guests here are so kind to one another, and very helpful." Ms. Frye still enjoys transportation provided by the Heritage to her favorite local hair stylist and activities in the Carefree area.

For information on The Heritage at Carefree Senior Living, please call 480.488.1622. Services include independent, assisted, memory care and nursing care. Apartments range from small studious to spacious two bedroom, two bath units. Visit www.heritagecarefree.com for more information.