FEBRUARY 25, 2015
Cottonwood Meteorite added to exhibit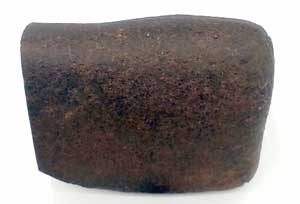 CAMP VERDE – The Verde Valley Archaeology Center (VVAC) has announced that the Cottonwood Meteorite will be added to the forthcoming exhibit on the return of the Camp Verde Meteorite.

Dr. Harvey H. Nininger (1887 – 1986) was the founder of the Sedona Meteorite Museum. His fascination with meteorites began in 1923 when he saw a fireball in the sky. Eventually he quit his job as a teacher to focus on hunting meteorites. In 1946, he founded the American Meteorite Museum (1942–1953) near Winslow, Arizona, close to Meteor Crater. By this time he had assembled an enormous collection of material. The museum moved to Sedona (1953–1960) after the new Highway 89A was built. When business began to fall away, he was forced to close the museum and sell his collection.

Dr. Henry Nininger explored various areas of the Verde Valley in search of meteorites. In his typed notes he describes how he was driving on a road to Cottonwood in 1954 when he noticed "a pile of blue-grey lava boulders and they definitely did not belong where I saw them ... At least a mile away was the nearest source for such boulders. Knowing that the aborigines sometimes covered meteorites with boulders naturally, the thought flashed through my mind that perhaps this pile concealed something of interest."

This reference to "aborigines" remained in the folklore of this discovery but the Verde Valley Archaeology Center found that his notes clearly state that "I happened to glance down and at my very feet lay a small stony meteorite, the size of a large potato." This meteorite fell in the Cottonwood area and has no association with Native American sites.

The Cottonwood Meteorite is an ordinary chondrite meteorite and weighed 1.8 lbs (808.7 gr) when inventoried by Arizona State University in 1970. Since that time, five thin sections totaling 0.3 lbs (135.3 gr) have been removed (note flat left edge) and given to other institutions such as the Chicago Field Museum.

The Verde Valley Archaeology Center exhibit will open on March 1 and will run through August 31. Because of the association of the Cottonwood Meteorite with possible ancient Native American practices the Center researched its background to establish whether this was true. "It was a little disappointing to find that this meteorite was not a part of an ancient site but it is good to clear up this misunderstanding" said Center Executive Director Ken Zoll. "Nonetheless, we are very pleased to add this specimen to the exhibit," he continued.

The loan of these meteorites from the Arizona State University Center for Meteorite Studies was arranged with the cooperation of Dr. Lawrence Garvie, Research Professor at the ASU School of Earth & Space Exploration. The Center will be hosting Dr. Garvie for a free talk on meteorites on March 3, at 7 p.m., in the Phillip England Center for the Performing Arts, 210 Camp Lincoln Rd, Camp Verde. The Center will also give monthly talks on the importance and uses of meteorites among ancient Native American cultures during the span of the exhibit.

The Center is located at 385 S. Main St., Camp Verde. The exhibit can be visited during regular business hours. Additional details of this exhibit and the monthly talks are available at www.verdevalleyarchaeology.org or by calling 928-567-0066.