FEBRUARY 25, 2015
Local DAR Chapter hosts Valley jeweler, Alfredo J. Molina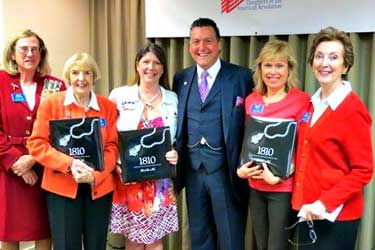 Pictured with Alfredo Molina are, from left, regent Kathy Shields, members Gloria Murison, Kate Taylor, Kristin Vaill, and vice regent, Susan von Hellens.
(courtesy photo)






Scottsdale-chartered Grand Canyon Chapter Daughters of the American Revolution (DAR) held its annual Sweetheart Auction and hosted a program by Alfredo J. Molina, internationally recognized Valley jeweler, at its February 7 chapter meeting at Chaparral Suites, Scottsdale.

Alfredo J. Molina is chairman and CEO of Molina Fine Jewelers and Black, Starr and Frost, America's first jeweler since 1810. Mr. Molina illuminated the development of American cities and sponsorship of the country's inventors, including Thomas Edison, by venerable American jewelers of the 19th and 20th centuries.

In addition, Alfredo Molina has donated his time and resources to more than 300 charities, personifying DAR's goal to celebrate America through volunteerism in our local communities.
For more information on the work of today's DAR visit www.dar.org.

The next meeting is the chapter's annual awards assembly on March 7. Speaker will be Sherry Koopta, Phoenix Art Museum docent. Guests are welcome.

For reservations, contact regent Kathy Shields at 602.820.5427 or e-mail dargrandcanyon@gmail.com.