FEBRUARY 18, 2015
An Inverted Jenny, C3a, will make its first Arizona appearance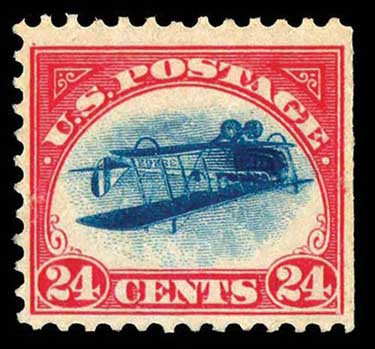 Arizona has a new first. An Inverted Jenny will hit the auction block in a February 21 Michael E. Aldrich Auction, a Carefree, Arizona based company, for the first time ever. The Inverted Jenny has long been known as the holy grail of stamp collecting. This prized and most coveted stamp in the world of stamp collecting is part of an auction that will be held at Arizona's national stamp show, ARIPEX. The show and auction will be held at Mesa Convention Center, Feb. 20 – 22. Besides the Inverted Jenny excitement, there are over 50 national stamp dealers plus world class exhibits featured at ARIPEX. The Mesa show is one of the Southwest's largest national stamp shows held each year. Adding a C3a sale to this show is a definite highlight to the status of Arizona philately (stamp collecting). The philatelic world does take notice when a C3a comes up for auction. The original sheet of 100 stamps that has the plane printed upside down, was discovered in 1918 by a Colonel Green. Since that time, "The Inverted Jenny" has become the most sought after error for those that can afford a copy. The existing stamps, depending on position on the original sheet and condition, can start at $100,000 and go up sharply from there.

The Aldrich Auction doesn't stop with the Inverted Jenny. Other highlights include: a complete set of 1869 Inverts, which includes one of the finest known used 30c with flags inverted. There is also a complete set of 1902 Pan-American Inverts, a mint extremely fine example of the CIA Invert, a nearly complete set of Second and Third Issue Revenue Inverts, Proprietary Revenue Inverts and two mint Canada Seaway Inverts along with the rare $2 Federal Bill Revenue Invert. In addition to the inverted centers being offered there are over 200 lots of Major Errors, Imperforates, Missing Colors, Miss-prints and various Freaks with perforation or printing errors. Even the non-collector would find all the errors fascinating.

Show information is available at www.Aripex.com and the C3a auction information is available at www.AldrichStamps.com , Michael E. Aldrich, Inc. Box 2295, Carefree, AZ 85377 or by phone at: 480-488-1616. The auction will be held live during the show and online at: www.StampAuctionNetwork.com.