FEBRUARY 18, 2015
Community briefs

The ACTS 5th Annual Silent Auction Fundraiser
All Anthem area residents are invited to attend from 4:30 – 7:30 p.m. on Feb. 20 at Ironwood Country Club. Doors open at 4:30 p.m.-Auction tables begin closing at 6:30 p.m. in 30 minute intervals. Live Music, cash bar and appetizers. Donated auction items include wine, art, travel, lodging, tennis, golf, jewelry, business services, dining and more! $1000 Cash Grand Prize! Raffle Tickets on sale now or available at the event. Need not be present to win. Purchase raffle tickets via email at actsauction2015@gmail.com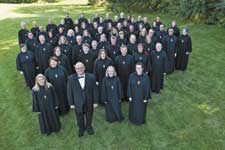 National Lutheran Choir
The award-winning National Lutheran Choir from Minneapolis-St. Paul will present a Hymn Festival at 3 p.m. Sunday, Feb. 22, at La Casa de Cristo Lutheran Church, Scottsdale. Local choirs are invited to join the 62-voice NLC for an afternoon of hymns of faith and choir anthems. The National Lutheran Choir was the recipient of the 2007 Margaret Hillis Award for Choral Excellence from Chorus America and the 2007 Wittenberg Award from the Luther Institute. Tickets are $15, available at www.NLCA.com or at the door starting at 2 p.m. For more information, call the church at 480-948-1234, or the choir at 888-747-4589.
Team Trivia Fundraiser Event on Sunday, Feb. 22
Soroptimist International of Saguaro Foothills is sponsoring the 3rd Annual Team Trivia fundraiser on Sunday, Feb. 22 at Venue's Café in Carefree. Come join the fun and put your knowledge to the test!! Team Trivia is a LIVE hosted trivia game played by teams consisting of up to four people. $200 per team; all proceeds help to improve the lives of women and girls in our local community and around the world. Tables are available at 3:30 p.m.; Team Trivia starts promptly at 4 p.m. Drinks and special menu items will be available for purchase at Happy Hour prices! Prizes and silent auction. For more information or to enter your team, contact Karen Tuffs 480-221-8623.
Alan Turing and The Imitation Game Tuesday, March 3, 2 - 3:30 p.m.
Bernard Kobes, PhD, professor of Philosophy at ASU and his students will discuss Alan Turing, his ideas, and his legacy to our technological civilization. Topics of discussion include Alan Turing's invention of the concept of a general purpose programmable computer in the 1930s; his contribution to the World War II code-breaking effort; creation of the famous Imitation Game, including efforts to get computers to play the game successfully; and ethical aspects of Turing's work. Will the future of artificial intelligence fulfill Alan Turing's prophetic legacy? The recently-released film "The Imitation Game" starring Benedict Cumberbatch (Oscar buzz already!), will be referenced during the discussion. An Arizona SciTech Festival event. Register: 480-488-2286.
11th Annual Taste of the Foothills Celebration and Cash & Caring Raffle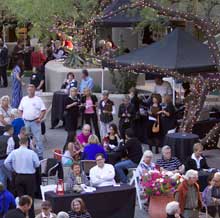 Who: The Foothills Caring Corps
When: 5 – 9 p.m., Thursday, March 19, 2015.
Where: el Pedregal, 34505 N. Scottsdale Road, Scottsdale.
Admission: $40 per person or free admission for two adults, with purchase of a Cash & Caring raffle ticket for $100.
What: Food and wine tasting, live music, live and silent auctions to benefit the non-profit Foothills Caring Corps.
Cash & Caring Raffle Tickets: Tickets are on sale now and will be available at the event. Tickets can be purchased for $100 each, three for $275, and eight for $500. Three winners will be awarded cash prizes.
Information: Call 480-488-1105 or visit www.foothillscaringcorps.com.
"Piano & Pipes" concert at 2 p.m. Saturday, March 21
The concert featuring Barbara Aldrich, organist, and Jill Nelles Voss, pianist, is part of Living Music Performance Series and will include sacred and secular music by composers such as J. S. Bach and John Rutter, and arrangements by Mark Hayes and John Innes. Free-will donations will be accepted, and a lunch will be served at 1 p.m. Christ the Lord Lutheran Church at 9205 E. Cave Creek Rd., Carefree. For more information call 480-488-2081, or go to www.ctlcarefree.org.
AZ Heroes to Hometowns Salute A Soldier 2015 5K Run or 1 Mile Walk

Saturday, March 21 is the Salute A Soldier 5K Run and 1 Mile Walk in support of our wounded troops. AZ Heroes to Hometowns has been serving our wounded troops for over 5 years here in Arizona to help these Heroes as they return to their communities and make sure they know we have not forgotten their sacrifice. Runners, sponsors and in-kind donations are needed. Please consider becoming a sponsor and support our military.

Visit www.AZHeroestoHometowns.org or contact Kathy kathypearce1@cox.net or 480.330.1632. "The mission of AZ Heroes to Hometowns Foundation is to assist with the needs of wounded troops and their families with financial, spiritual, emotional, and social support as they return to their communities." AZ Heroes to Hometowns is a 501(c)3.
Yappy Hour on the Terrace: How to Love Your Dog Thursday, March 26, 3:30 – 5:30 p.m.
Wine and iced tea for humans, treats for the pups...Join us, with your dog (or just because you're a dog-lover), mingle on the Waterfall Terrace, and enjoy hearing published author Krista Cantrell share "how to love your dog". Krista is an animal behaviorist and "dog whisperer" who works with dogs on many levels, including agility training. Krista's fascinating background and range of skills will lead to many questions, so we'll leave plenty of time for Q&A. Foothills Animal Rescue will be on hand to collect donations from their wish list: Natural Balance dry Dog and Cat Food or Trader Joe's Canned Dog Food, Kong or rope toys, small dog biscuits. Register: 480-488-2286.
6th Annual Cave Creek Trail Run April 14
Distances: 2K Kid's Desert Fun Run, 5K Run/Walk, 10k Run
Time: 10K Run starts at 7 a.m., 2K Kid's starts at 7:05 a.m. and 5K Run/Walk starts at 7:15 a.m.
Where: North of Cave Creek by Spur Cross Conversation Ranch
Please visit www.cavecreektrailrun.com in order to get all the route information, to sign up for the race or to volunteer.
"Golf-Fore-Charity" April 27
Don't miss the opportunity to enjoy a great round of golf while supporting St. Vincent de Paul and other local charities. The Knights of Columbus, Council #11116 from Carefree will be holding their 14th annual Golf-Fore-Charity event on two of North Scottsdale's premier private golf courses: Troon Country Club and Desert Highlands Country Club on April 27. For more information visit www.golf-fore-charity.org.