FEBRUARY 18, 2015
It's art for land's sake
Local artists use their talent to celebrate Desert Foothills Land Trust preserves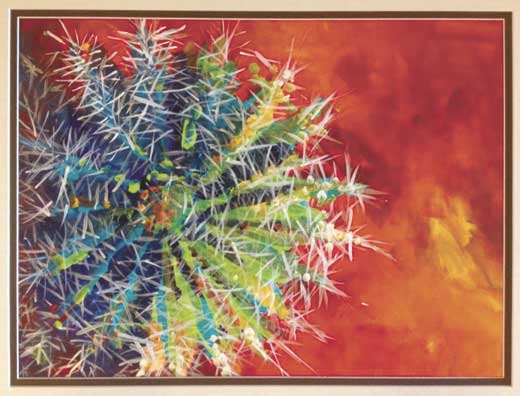 NORTH VALLEY – It's a match made in heaven – an art exhibition and sale that brings together the remarkable artists in our community, with the beautiful landscape that so often inspires them!

Desert Foothills Land Trust solicited works of art that celebrated DFLT preserves, including Jewel of the Creek Preserve, P.A. Seitts Preserve at Go John Canyon, and other local treasures. The resulting entries were juried by renowned Scottsdale artist Charles H. Pabst and the finalists will be displayed in an exhibition at the Desert Foothills Library from Feb. 21 – 28, 2015.

Artists that were selected for inclusion in the exhibition and sale are:
Mary M. Boehm
Virginia Brooks
Carla Cross
Sue Feagler
Linda Garrett
Linda Howell
Greta Marsalis
Charlotte Moore (above)
Dick Mueller
Stephanie Newman
Ronnie Wainwright
Jo Watts
Patty Wellens

On Saturday, Feb. 28 the paintings will be available for sale at the Library, with 25 percent of the sales benefiting the Land Trust's conservation work.

"We hope the exhibition helps the community celebrate both the rich artistic culture and the remarkable natural areas we have in our community," shares event organizer and former DFLT board member, Joanne Rebollo.

Visit the exhibition and purchase a piece that reflects the landscape you love!

More information is available at www.dflt.org or 480-488-6131.