FEBRUARY 11, 2015
Cave Creek resident Korina Kemp Riggin to be honored on Feb. 17
Cal State L.A.'s Athletics Hall of Fame Class of 2015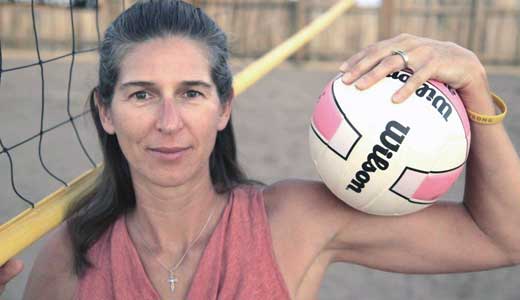 LOS ANGELES – Cal State L.A.'s Athletics Hall of Fame is about to include four new members.

Former head baseball coach John Herbold, two-time volleyball All-American Korina Kemp Riggin (above), men's soccer star Morten Marthinsen, and Monica Tokoro, the holder of several career records in women's basketball, will be inducted into the Athletics Hall of Fame on Tuesday, February 17, in the Golden Eagle Ballroom. The Class of 2015 will be the 23rd class to be inducted and will bring the total Hall of Fame membership to 116.

"This is another outstanding class to induct into the Athletics Hall of Fame at Cal State L.A.," Cal State L.A. Director of Athletics Dan Bridges said. "We're very excited to honor these four individuals at our upcoming Hall of Fame induction. They are all very deserving of this honor."

They will join other notable Hall of Famers like tennis legend Billie Jean King, two-time Olympic track and field gold medalist Mal Whitfield, former Baltimore Orioles and Los Angeles Dodgers outfielder Jay Gibbons, and former Major League Baseball pitcher and longtime pitching coach Bob Apodaca.

Herbold, who was Cal State L.A.'s baseball coach from 1984 until his retirement in 2004, led the program to 455 wins and California Collegiate Athletic Association championships in 1997 and 1998. He is the program's all-time career wins leader and surpassed legendary coach Jim Reeder with his 398th win on Feb. 10, 2002.

Herbold led the 1998 squad to a berth in the NCAA Tournament, the first for Cal State L.A. in 21 years. During his tenure, Cal State L.A. ranked among the top-25 schools in the nation, regardless of division, in sending players to the pros. In the classroom, Herbold's teams consistently performed at a high level.

In 2004, Herbold received the Lefty Gomez Award, presented annually by the American Baseball Coaches Association to an individual who has distinguished himself amongst his peers and has contributed significantly to the game of baseball locally, nationally and internationally.

Before coming to Cal State L.A., Herbold had a 28-year coaching career at the high school level. He guided teams from Long Beach Poly and Lakewood high schools to 18 Moore League titles and three CIF titles.

Kemp was the first volleyball player at Cal State L.A. to earn first-team All-American honors when she picked up the award from the American Volleyball Coaches Association in 1994. She joined teammate and Cal State L.A. Hall of Famer Andrea Ferchaw as the program's first-ever two-time All-Americans. Kemp had also earned second-team honors in 1993, while Ferchaw earned second-team honors in 1992 and 1994.

Kemp also earned All-CCAA honors and All-Region honors in both those seasons.

An excellent all-around player, Kemp is still near the top of two Cal State L.A. career lists. She is No. 2 all-time in career aces with 169 and No. 5 all-time in kills with 1,271.

Marthinsen is largely credited with helping return the men's soccer program to national prominence. He earned All-West Region honors all four seasons he played for the Golden Eagles and was the team's leading scorer three times. He was named the CCAA Offensive Player of the Year in 2005 and led the Golden Eagles to the West Region championship match in 2006.

Marthinsen also earned first-team All-CCAA honors all four seasons he was at Cal State L.A.

Marthinsen earned the Outstanding Offensive Player Award at the NCAA West Regionals in 2006 when scored three goals in two games, getting one in a 2-1 win over Seattle Pacific and two more in the regional final against Seattle University.

He is No. 2 all-time at Cal State L.A. in goals with 46 and points with 106.

Tokoro holds the women's basketball program record for career points with 1,944 after a sensational four-year career. She became only the third player in program history to earn All-America honors when she received second-team recognition in 2003.

She earned first-team All-CCAA honors all four years she played and led the Golden Eagles to their first-ever NCAA Tournament appearance as a senior in 2006. The Golden Eagles achieved just the second 20-win season in the program's history after going 20-8 overall.

Tokoro was the CCAA's leading scorer in 2002-03 after averaging 25.1 points per game and she still holds program records for career points (1,944), assists (576) and points in a game (49).

The Cal State L.A. Athletics Hall of Fame was instituted in 1985 to honor the outstanding achievements of individuals who have participated in intercollegiate athletics at the University as student-athletes, coaches, administrators or staff and who have brought honor to themselves, Cal State L.A. and their communities.

Members of the Athletics Hall of Fame are selected by a panel of Cal State L.A. staff and alumni. To be eligible for the Hall of Fame, a student-athlete must be an alumnus of Cal State L.A. with a record of outstanding achievement in at least one sport. The student-athlete must have graduated or attended in good standing at least five years ago.

A reception will begin the evening at 5:30 p.m. and dinner is scheduled to start at 6:30 p.m. The evening program and induction ceremonies will follow. For ticket information, please call 323-343-3080.