FEBRUARY 11, 2015
Cave Creek Museum hosts 'Authors' Month' in February
CAVE CREEK – Cave Creek Museum's popular "Authors' Month" returns in February! The Museum lined up an exciting roster of authors to speak each Saturday from 2 to 3 p.m. in the historic church, followed by a "meet and greet," book signing and refreshments inside the Museum until 3:30 p.m. The line-up includes Jeffrey Marshall, author of "Little Miss Sure Shot" on Feb. 14, and Jerry Matney, author of "Woman War Chief" on Feb. 21." Admission is free.

On Valentine's Day, Sat., Feb. 14, guests are invited to hear about the Wild West's sweetheart, Annie Oakley, as portrayed in Jeffrey Marshall's fast-moving historical novel, "Little Miss Sure Shot." Before mass media, movies, and TV, spectacles like Buffalo Bill's Wild West Show created the superstars of the day. Annie Oakley was such a star who captivated millions here and abroad. In his book, Marshall weaves her fame and acclaim into his story, as well as the loving marriage between Annie and her manager and husband of 50 years, Frank Butler.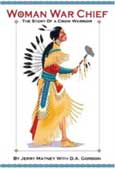 Guests to the Museum on Sat., Feb. 21 will hear the true story of a captive Crow woman in the early 1880s who struggled to become a warrior instead of a lodge woman, and succeeded in becoming a leader among the very people who took her. Surprise resident Jerry A. Matney spent more than a decade researching the life of Woman Chief, including interviewing members of the Crow tribe in Wyoming, for his book "Woman War Chief." Rich in detail and drama, the book describes how Woman Chief hunted buffalo, fought enemies, participated in tribal councils, and traded with American, English and French trappers.

Cave Creek Museum is located at 6140 Skyline Drive, in Cave Creek. Call 480-488-2764 or visit www.cavecreekmuseum.org.