My View

BY DON SORCHYCH | FEBRUARY 4, 2015
Trenk and his lads
Election signs are sprouting up all over town! It is good to see signs appearing for challengers: Susan Clancy, Dick Esser, Steve
LaMar and Mark Lipsky to unseat the slate. Reg Monachino's signs are here and there and yesterday Adam Trenk arrived with super-sized signs to prove his boasts that the election will be
expensive. I am sure he will have signs and mailers hyping his socalled accomplishments. I am told he has tried to get robo calls from John McCain again but was refused.
McCain is known for vindictiveness, like Trenk, and Trenk's
enemies alerted McCain to Trenk's hiring of Rodney Glassman.
Glassman ran a weak race against McCain in a recent election. Unfortunately Glassman was a shoe-in here because of his friendship with Trenk and Trenk's hold on his slate submissives.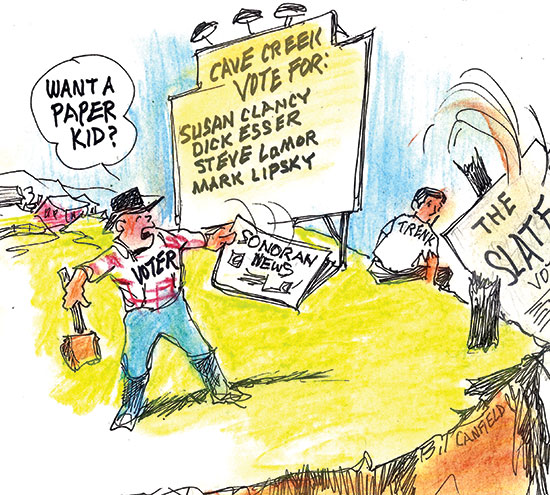 Trenk has imbedded several versions of his signs. The first one reads: "Vote Trenk 'Slate' Proven Results" and the word "Recall" in a circle with a slash across it. Later versions of Trenk signs dropped the "Slate" word, although his signs proclaiming he leads a slate are of his making.

From time to time Trenk insists he and his three followers aren't a slate, but the actions and votes, texting in meetings and especially their emails planning the firing of the town manager clearly show they are a slate. The same goes from the early hiring of Rodney Glassman, the worst town manager in our history.

Trenk brags about 'proven results' which are miniscule items developed by the staff but sometimes necessary in any town.

The slate spends an extraordinary amount of time pestering town staff testing their brainstorms and wasting town officials' time.

A good example is the bright idea to have median posts scattered here and there with only four banners out of 18 for the museum and one other entity. The signs were supposed to be rented by various organizations. But the bulk tell you that you are in Cave Creek as if any driver didn't already know. That idea cost the town a mint.

According to Town Manager Peter Jankowski, the town has not received any reimbursement toward its outlay of approximately $7,000.

Twenty thousand dollars for two metal horses embracing Cave Creek is another example of foolish use of tax payer money as is the $80,000 for road maintenance software. Drive Morning Star Road after any rain and count the pot holes.

And what does Trenk avoid? He is responsible for the lion's share of the blame for vindictively firing former town manager Usama Abujbarah. Of course he needed the votes of the slate but they were always there for their master. The cost of the legal defense is over $200,000 so far
with more to come, a heavy financial burden on the town. The town could also face a loss of $3 million if Abujbarah prevails. If Trenk were being straight with you he would bring up the facts instead of his exaggerated fancies. At the top of the list is his firing of Abujbarah. Next was his
attempt to deny Abujbarah's First Amendment rights when Trenk recorded (without Abujbarah's knowledge) a meeting where Trenk's conditions in order for Abujbarah to keep his job was to
eliminate me and Sonoran News from his life, ergo a First Amendment violation.

Then there is the cost of over $90,000 to pay for seven and one half months of Glassman's employment in our town with abnormal expense accounts, including paying for Arizona Republic former reporter Phil Haldiman's lunch and giving the Arizona Republic all their ads even though the town has no knowledge of how many newspapers are actually seen by citizens. Sonoran News goes to every postal address in town. Patty Pollnow was hired by Glassman, was supposed to visit and somehow support all local businesses, but never stepped a foot in our door.

Glassman also created an atmosphere that caused Utilities Manager Jessica Marlow to leave so he could hire his friend David Prinzhorn, which then led to firing Town Engineer Wayne Anderson. I find it interesting that the web page in support of the slate wrote abusive trash about both Marlow and Anderson. Prinzhorn is now in charge of both functions. His claim to fame is making over-limit expenditures for equipment without council's advance approval, but he gets away with it time after time. We have attempted to obtain employment verification and background check records, but have been blocked by town attorney Fredda Bisman for all except his MVD record indicating he has an Arizona driver license.

Trenk and his henchmen like to blame "the Tabloid" for their failures in politics. Can't be us since we are a broadsheet newspaper and have been a broadsheet for twenty years. Our birthday is today!

We are a watchdog newspaper that prints truth and opinion. Opinion is conservative based on truth and although Trenk and his "boys" claim we lie, they never name one.

Trenk has a long list of screw-ups that outweigh his miniscule achievements by a zillion or so.

But there is a fix, and a great one at that.

Please vote for Susan Clancy, Dick Esser, Steve LaMar and Mark Lipsky. This newspaper supports their experience, honesty and their love of Cave Creek. They will serve the town before themselves.