FEBRUARY 4, 2015
Fine Art festival makes fifth appearance at Wigwam Resort
Wigwam Festival of Fine Art | Feb.13-15 | 9 a.m. - 5 p.m.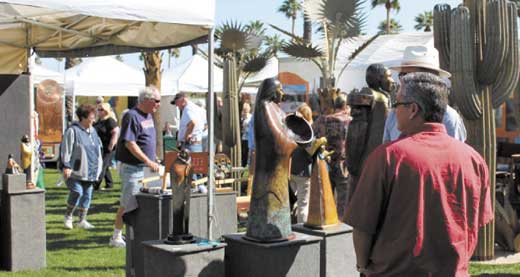 LITCHFIELD PARK – Master Artists of the Southwest showcased at Historic Arizona Landmark – The legendary Wigwam Resort will host the 5th Annual Wigwam Festival of Fine Art, an extraordinary three day festival of the Arts.

Discover the original works of the Southwest's most accomplished Fine Artists and Craftsmen displayed in a stunning outdoor gallery located on the majestic front lawn of Arizona's first and most celebrated Resort.

Starting from the moment guests arrive, the experience will reflect the character and charm of the resort's original grand entrance when it first opened in 1929. The Resort resides over 450 acres of lush landscaped gardens, towering palm walkways and fragrant citrus tree-lined enclaves among numerous floral and rose gardens filled with intimate lounging areas, offering a traditionally unforgettable experience to a time of serenity and life's simple pleasures. "I believe you would be hard-pressed to find a more beautiful venue for an outdoor Festival" said Candy Vermillion, Event Organizer.

Widely recognized by collectors and art enthusiasts, this event draws award-wining artists from across the Country portraying Western, Native American, and Southwestern subject matter and includes participating members of such prestigious organizations as the Western Artists of America, Cowboys Artists of America, and Southwestern Premier Artists.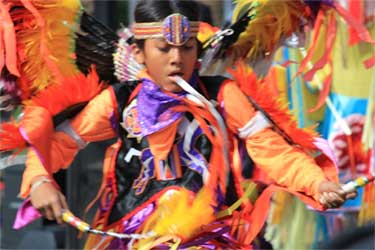 Guests will have a rare opportunity to meet and visit with nationally renowned artists, while strolling through the grounds sipping a collection of fine wine and enjoying the enchanting sights and sounds of Native American dancers, storytellers, and musicians. Performing on the Main Stage will be internationally acclaimed and five time world champion hoop dancer Tony Duncan with Estun-Bah and the Yellow Bird Dancers. The Yellow Bird Dancers travel the US and Canada sharing the traditional dances of their tribes. Sharing the stage will be "Lord of the Strings", Arvel Bird with Many Tribes, One Fire. The beauty of these stirring performances against the backdrop of the legendary Wigwam Resort offers visitors a rare photo opportunity to capture the true Southwest in all its beauty and charm!

Plan your Valentine's getaway to indulge yourself in elegant art, wine food, and stirring outdoor entertainment, all in a setting that has drawn discriminating visitors to the West Valley for the decades.

Festival highlights and amenities include, wine & cocktail bars, al fresco dining, fine chocolate made onsite, confectionaries, homemade ice cream, continuous live music, valet parking, shuttle service, onsite restaurants, and more!

Contact Information: Vermillion Promotions 623-734-6526 or visit www.vermillionpromotions.com