FEBRUARY 4, 2015
Desert Foothills Library debuts Early Literacy Station™ with an open house event on Feb. 21
CAVE CREEK – The Desert Foothills Library will debut its Early Literacy Station™ with an informative open house event on Saturday, Feb. 21, from 10 a.m. to noon, 38443 N. Schoolhouse Road, Cave Creek.

Funded by the Good Shepherd of the Hills Episcopal Church, with money raised by their Gold Mine Thrift Shop, the literacy station is loaded with over 70 educational software programs for kids ages 2-9.

The open house event will allow visitors a chance to try out the new computer, play with the library's other educational toys, and enjoy some tasty treats. For further information please visit www.desertfoothillslibrary.org or call 480-488-2286.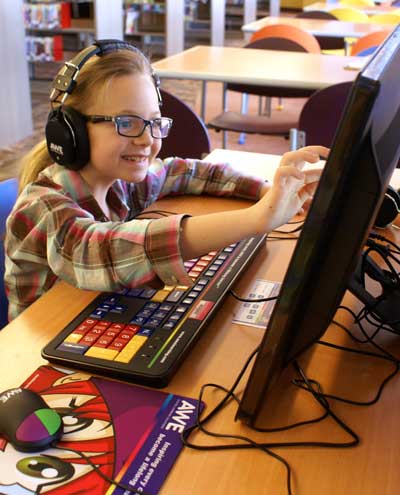 The Early Literacy Station™ offers children a safe, standalone computer not connected to the Internet that is age-appropriate and interactive. It is designed to support school readiness and early education while making learning exciting and engaging.

The acquisition of the Early Literacy Station™ adds to an array of other educational tools and activities offered at the Desert Foothills Library, named "Best Library in the Valley" by Phoenix New Times in 2014.

"The Early Literacy Station is an invaluable resource for our toddlers to 4th grade students," says Desert Foothills Library Executive Director, David Court. "We are excited to offer this new service to our patrons and look forward to many happy years with this computer."

The early learning applications on the Early Literacy Station span every curriculum area: reading, language arts, math, science, STEM, social studies, writing, graphic arts, typing, music, and more. Children in groups of 1-2 can log-on for a session.

AWE's Early Literacy Station™ educational software content includes:
• La Casa de Dora
• Sammy's Science House
• Giggles Kids My Musical World/ABCs and 123s
• Kid Pix 3D
• Math Doodles
• Sesame Street
• Know Your USA
• Miss Humblebee's Academy
• Wanderful ebooks
• Speakaboos interactive storybooks
• World of Goo

The Early Literacy Station has an imaginative interface that encourages exploration by readers and pre-readers alike. Since it is a self-contained computer, the need for adult intervention and technical support is greatly minimized.

AWE's Early Literacy Station, the company's flagship product, is found in over 40 percent of the public libraries across the United States as well as in many communities in Canada and abroad. For more information, visit www.awelearning.com.

The Desert Foothills Library is a 501c3 library funded entirely by donations. The Library's mission is to facilitate the sharing of knowledge, ideas and culture by providing personalized and responsive resources, services, social and learning opportunities to the community it serves. The service area includes Cave Creek, Carefree, northern Phoenix and the northern part of Scottsdale. Partnerships with local organizations like Good Shepherd of the Hills Episcopal Church permit the library to reach and engage a wider range of residents.

Courtesy Photo: Olivia Skalleberg uses touchscreen technology to draw with one of the Early Literary Station's design programs.