BY LINDA BENTLEY | JANUARY 28, 2015
Do taxpayer-funded 'prizes' violate AZ gift clause?
Cave Creek emerges with clean financial audit
CAVE CREEK – Mayor Vincent Francia called Monday night's council meeting to order and announced T.C. Thorstenson had called that morning to withdraw his application for an extension of premises for his Hogs 'N Horses liquor license from the agenda.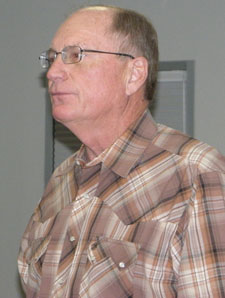 Call to the Public brought Robert Morris (r), a member of the Water Advisory Committee (WAC) to the podium to praise Town Engineer David Prinzhorn and council reinstituting the WAC.

Morris briefed council on the "mal operation" of the water treatment plant, which he said caused it to dump 500,000 gallons of CAP water on the ground (into the lake) at Rancho Mañana during a period of severe drought.

He said all of this was at no fault of Rancho Mañana.

Morris questioned how this was able to go on unnoticed for so many years, indicating staff was aware of the problem.

Morris, who serves on the WAC but stated he was speaking only for himself, encouraged council to direct staff to hire another full-time engineer and said, "The town can always cut back later. But, help is needed now" to accelerate fixing its utilities.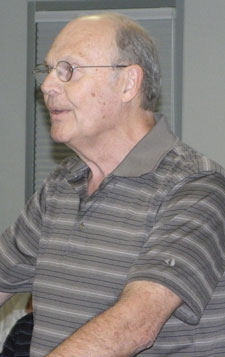 David Smith (r) spoke about elections and the "true danger" to Cave Creek of "dark money."

He said there was not a lot of true dark money during the last election cycle but stated there is the equivalent of dark money with Sonoran News.

Because the four individual challengers to the recalled councilmen, all of whom Smith supports, have submitted letters to the editor and guest editorials that were published, Smith has concluded they are Publisher/Editor Don Sorchych's "slate."

It should be noted, however, none of the recalled candidates have neither contacted Sorchych nor submitted anything to be considered for publication.

Smith went on to talk about the "big lie" and when he was a kid it was first Communism and then Nazism but then said he wasn't comparing Sonoran News to Nazism.

He concluded by saying if Sorchych's "slate" wins it will be "very, very bad for Cave Creek."

Vice Mayor Adam Trenk and his fellow recalled slate councilmen, Mike Durkin, Reg Monachino and Charles Spitzer are more accurately the ones to blame for orchestrating the divisiveness in town that spurred the recall.

Town Manager Peter Jankowski stated the town had received a number of requests to reinstitute "Office Hours with the Mayor and Vice Mayor."

Trenk told Jankowski it would be resuming that Thursday.

Town Accountant Robert Weddigen and Marilyn Mays, a partner with Henry & Horne, LLP, the town's auditors, did a presentation of the annual audit, which Mays said received a clean opinion.

Mays said there will be one upcoming change beginning next year that came from the Government Accounting Standards Board, which has to do with accounting for defined benefit pension plans.

Because the town participates in the state pension plan and because the plan is underfunded, the town will need to reflect an amount it will be allocated in the near future as a liability on its financial statements.

Currently, that liability is only reflected in a footnote.

She stated it doesn't change anything other than instead of the shortfall being mentioned in a footnote, it will be included as a liability in the text of the financial statements.

Weddigen said the town has a cash balance of $7.7 million and was well on its way to meeting all of its financial obligations.

Councilman Charles Spitzer pointed out the town didn't meet its WIFA (Water Infrastructure Finance Authority of Arizona) reserve requirements last year for the Desert Hills water utility loan and asked what the town was doing about it.

Weddigen said it was up to WIFA to determine what the town needs to do and will most likely have it do the same thing it did previously for the Cave Creek utility.

During Public Comment Kerry Smith said he was confused about the underfunded benefits plan and if the town has a liability it should have some say in how it's addressed.

Town Attorney Gary Birnbaum said it's not really any different from any other shared liability.

Birnbaum reiterated nothing has changed as far as the liability is concerned other than where it is reflected on the financial statements.

The town voted unanimously to approve the audit report with Councilman Ernie Bunch commenting about how Gov. Scott Walker fixed the problem in his state and suggested maybe Arizona could do the same.

Bunch learned later in the evening from Steve Betts, who was there to speak on another agenda item, but, in response to Bunch's comment, said he was serving on the Gov. Doug Ducey transition team and they have had conversations with Gov. Walker.

Mark Stapp told council the Cahava Springs project was like the Beatles' song "Long and Winding Road" and the Grateful Dead's "Keep on Trucking."

Stapp made a presentation to council to propose moving forward with the project by instituting a "Revitalization District for Public Improvements."

He said recent legislation (A.R.S. § 48-6801) allows for a new type of utility district to provide a means of financing the required infrastructure.

Stapp said the project began in 2000 but the recession caused them only to pause.

He stated there was still a desire to pursue the project and considering it is 1,000 acres, it is the largest project to ever be developed in Cave Creek.

According to Stapp, the improvement district allows issuing 30-year bonds and does not involve the town.

Instituting this type of improvement district would allow Cahava Springs to begin construction as soon as bonds are issued and allows for pay-as-you-go growth.

He said the proposed district would also benefit residents on the west side of town who are interested in hooking up to town utilities and would include approximately 742 acres within Cahava Springs' boundaries.

Stapp said the district will accelerate development and allow Cahava Springs to complete their plans as approved with no changes.

The amount of bonds to be issued to complete the infrastructure is $20 million, which includes $5 million in improvements already completed.

According to Stapp, the section of water lines already completed would only require about $20,000 to pressurize and chlorinate the lines, which would allow area residents to hook up to the town's water utility.

Trenk said he was concerned about the improvements being turned over to the town and the town would have the cost of maintaining those assets and asked how that would work.

Stapp said there was no difference other than the means by which they're being financed.

Birnbaum stated the town could require operating reserves and there were a number of ways to address that issue.

Stapp said that was a customary approach, it was not a big concern and they had no problem with that.

He said they could put a certain amount of cash in reserve for a specific amount of time.

Birnbaum said the revitalization district is very new and he was unaware of anyone that has used it yet.

Betts, who is the former CEO of Suncor Development Company and a Cave Creek resident, said he helped draft the statute, originally for Scottsdale, which never used it.

Betts stated it is a good way to get funding for large projects as well as a means of obtaining low-interest financing for public infrastructure.

He also stated, unlike other districts, the town would not be involved or serve on the board of the district.

Stapp said he believed Flagstaff was utilizing the improvement district statute for business improvements and told council he would get the details.

Stapp stated Bill Hicks is their bond counsel and he has no problem with this and said, "Our objective is to get the work done."

Durkin commented, "This town is familiar with the pain of taking on infrastructure and maintaining it."

Councilman Thomas McGuire said he was concerned about the town's financial exposure.

Birnbaum responded, "Theoretically the town has no exposure."

Stapp said plans were being designed to conform to the town's standards, they have been working with the town engineer and the plans were almost done.

During public comment, Terry Smith, who lives on the west side of town, said the town has held them up on water lines over $20,000.

He said the town just needs to accept the infrastructure that's been in place for years.

Smith said, "The town owes it to us to put up $20,000 – we're being put on hold again."

He told council wells were going dry and said residents don't have water and some are hauling water.

Smith said $20,000 isn't a lot of money, noting the town has spent that much on less important things, and stated, "We'd like to see some action."

Although Smith didn't mention the stainless steel horses at each end of town, they had a price tag of $20,000 and are an example of this council placing a taxpayer-funded public art project as a priority over the health, safety and welfare of its citizens.

Kerry Smith stated he is very concerned about the proposed timeline for the project because the town is understaffed and said, "Abandoned projects with great infrastructure have a detrimental effect on communities."

David Smith said a reserve would certainly be required for maintenance and asked why the town appoints the first board.

Birnbaum said it is a provision of the revitalization statute.

J Smith, who is also from the west side of town but now lives primarily in Alaska, said the town needs a better maintenance program and stated $20,000 is not a big amount, pointing out the town spends more on events in town.

Gary Becker, also a west side resident, joked he was changing his name to Smith and said, "We've been waiting a long time for water. Our wells are going dry."

Becker encouraged the town to "move ahead on this project and give us some water."

Francia instructed Jankowski to have staff continue discussions with Stapp, have staff go out and look at the water line and get real cost of what it will take to get the water line up and running.

The next agenda item was an ordinance introduced by Trenk for yielding on trails.

Trails Coordinator Bambi Muller said she didn't know it was going to be on the agenda but stated, "I think it's a great idea."

She said as far as trail etiquette goes, "You should always yield to horses."

However, Muller said there was such a large mountain bike population they need to educate.

Trenk said the ordinance also deals with slick surfaces across trails, usually people who pave their driveways.

J Smith stated there are 150 horses that use his land to connect to trails and said, "I don't think anyone should be told what they can do on their private property."

Johnny Ringo said he also had no idea the item was on the agenda but stated they needed a hands-on clinic to educate people on trail etiquette.

He said he was putting together a program: "Cycles and Saddles" to help make everyone aware of etiquette on the trails.

Ringo said the clinic is scheduled for May and stated there are three to four times more mountain bikers on the town's trails now than he's ever seen.

Ringo said he supported Trenk's ordinance.

Trenk who moved to pass the ordinance said he took the language from ordinances in Flagstaff and Phoenix. He said the ordinance applies to public trails, not private property.

Durkin said he always yielded to pedestrians on trails and questioned the conflict for private property.

To avoid litigation, Durkin asked to amend the ordinance so property owners can pave a portion of their property, such as driveways.

Durkin said he was having trouble understanding why there was a problem with crossing a paved driveway.

Trenk explained his personal experiences riding a horse across slick surfaces even for a short distance.

Birbaum suggested adding language to address the concern that both Trenk and Durkin found acceptable.

Council voted unanimously to pass the first reading of the ordinance.

Trenk introduced his "Creeker Commerce" resolution as a pilot program, which he said he developed with Patty Pollnow and IT Coordinator Brian Poore to encourage citizens to shop locally and generate revenue for the town.

During public comment, Ringo said he supported the program and told council where he bought each piece of his outfit and how much he spent from his hat to his boots.

He said he thought the program was very good and stated he only goes south if he absolutely has to.

Danny Piacquadio from Harold's said it was refreshing not to talk about sewer issues.

He also spoke in support of the program, which he believes brings people together while creating town pride and loyalty.

Walmart Manager Matt Mower also spoke in favor of the program and mentioned Walmart was expanding its beer case due to the volume of alcohol sales in Cave Creek.

Trenk moved to pass the resolution as he explained how the program works.

He said every time people spend money in town they should keep their receipts, which Poole will then enter into a database.

At the end of each quarter, he said anyone who generated at least $50 in sales tax revenue will receive a "prize" from the town.

Durkin, who seconded the motion said it was a great idea.

He stated, "I wish citizens knew how hard [Trenk] works and heard the other side of the story other than what they read in the local tabloid."

McGuire said, "I hate to be the Grinch who stole Christmas … I think buying local is a great idea. I'm concerned about resources being spent."

He brought up the banner program, in which the town has invested approximately $7,000 and said only 4 of the 18 banners are being used.

McGuire said the town needs funds for road maintenance and legal services.

Durkin stated the program could potentially be revenue neutral and asked if they had set a rate as to how much they would pay out.

Trenk stated, "If you generate at least $50 in sales tax you can win a prize … a $5 item like a T-shirt or drink cozy."

Trenk said he hoped letting people know how little the prizes were worth wouldn't discourage anyone from participating.

Trenk continued, "In order to generate $50 in sales tax you'd have to spend approximately $3,000," although, with a sales tax rate of 3 percent, it's not clear how he came up with that figure.

He mentioned a second tier for those who generate $500 in tax revenue, which would make them eligible for a more substantial "prize."

Council passed the resolution by a vote of 6-1, with McGuire dissenting after commenting, "I will buy locally but will vote no."

It's not clear how this program complies with Article 9, Section 7 of the Arizona Constitution, which states: "Neither the state, nor any county, city, town, municipality, or other subdivision of the state shall ever give or loan its credit in the aid of, or make any donation or grant, by subsidy or otherwise, to any individual, association, or corporation, or become a subscriber to, or a shareholder in, any company or corporation, or become a joint owner with any person, company, or corporation, except as to such ownerships as may accrue to the state by operation or provision of law or as authorized by law solely for investment of the monies in the various funds of the state," otherwise known as the gift clause.