BY LINDA BENTLEY | JANUARY 21, 2015
Trenk giving 'Carmen Sandiego' stiff competition
Still blaming the newspaper for citizens' dissatisfaction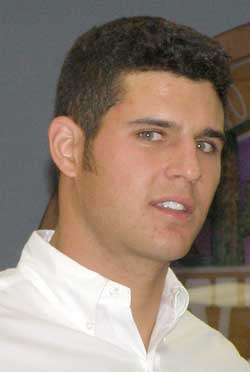 CAVE CREEK – Vice Mayor Adam Trenk, who didn't live in Cave Creek, as required, prior to running for office and who doesn't appear to live in town now, also required to serve in office, gives the series of educational computer games: "Where in the World is Carmen Sandiego?," developed from 1985 to 1996 to teach geography and reference skills, some stiff competition.

Nonetheless, Trenk and his fellow slate councilmen, Mike Durkin, Reg Monachino and Charles Spitzer, continue to blame this newspaper for their demise.

Since taking their oath of office, they have made sure, as they tout being the most open and transparent administration ever, that the town excludes Sonoran News from its communications to the public by withholding information it provides to out-of-town newspapers and by withdrawing all of the town's legal and promotional advertising.

The town, under their watch, even hired an additional employee to do some sort of community outreach that specifically excluded the local newspaper from all of its press releases and other communications.

Trenk, an attorney with the Rose Law Group, in exchange for a three-quarter-page ad, received a four page puff piece cover story about himself in a Chino Valley equestrian publication.

Why a Chino Valley publication? Because Trenk has ostracized the local newspaper as well as the local equestrian periodical, Bridle & Bit.

Trenk retaliated against Susan Clancy, who chaired the committee that successfully recalled the four slate councilmen, by suing her (for the third time) to have her removed from the ballot, when she was running for reelection to the Cave Creek Unified School District governing board.

The first two lawsuits Trenk filed challenged the recall petitions on technical grounds, which resulted in the recall being temporarily thwarted until the political action committee could regroup and collect far more than the required number of valid signatures in a second round.

Meanwhile, Trenk is being investigated by the Maricopa County Attorney's Office criminal division for signing the name James Gandolfini, the late star of the HBO hit TV series "The Sopranos," along with a fictitious address on Yucca Drive, to his own recall petition.

Trenk then used his falsified signature as a means of invalidating the entire petition sheet in one of his lawsuits against the political action committee.

When asked, under oath, if he signed Gandolfini's name, Trenk first attempted to "take the Fifth" until the judge compelled him to answer the question and he admitted doing so.

Now it appears the recalled councilmen are calling citizens who signed their recall petition to ask them why they signed it.

While those who received calls believe it's for intimidation, Durkin claims the recall is based solely on misinformation provided by petition circulators.

However, there is no getting around the fact the four recalled councilmen conspired to fire the town manager and hire Trenk's inexperienced and unqualified friend, Rodney Glassman, to serve as interim town manager at the same pay as the ousted town manager (who had 14 years of experience), as their first order of business.

They also catapulted Trenk to vice mayor.

Trenk was not a Cave Creek resident for one year prior to running for office, a statutory requirement.

Even though his appearance on the ballot was challenged in court, Trenk was allowed to remain on the ballot by a judge who deemed Trenk's intention to move to town was good enough.

Trenk testified that he likes to come to Cave Creek on weekends and sometimes gets too drunk and doesn't want to drive home to Scottsdale so he stayed either in a trailer or in a spare room in the house he owns at 6913 E. Highland Road, which he is leasing out to someone else.

Since that time, Trenk briefly lived in a home he purchased on Gunsight Road in Cave Creek, but subsequently moved into another home he purchased as his primary residence in Scottsdale.

No one at town hall seems to know where Trenk lives either. The only address they have on file is his P.O. Box.

However, Trenk is currently registered to vote in Cave Creek using 6914 E Highland Road as his address, which is right across the road from the home he is leasing out.

The assessor's office shows ownership of the property as Broadway Cody LLC, for which Trenk signed warranty deed documents in March 2014 as its manager.

The Arizona Corporation Commission has no record of the LLC, a Delaware Corporation.

An affidavit of property value signed in October 2013 reflects Broadway Cody LLC sold the home on Highland to itself for $359,000 cash and indicated it would be used as a primary residence.

County records show Roger Schmitz of United Metro Properties as owner/ agent for the same property, which is registered as a rental.

Why would Trenk register owner-occupied property as a rental?

Maybe more telling are some of the e-mails between Trenk and Glassman during the period of time Glassman was interim town manager, confirming meetings at 5 a.m. to run along the Camelback Road corridor.

Trenk has, in fact, been spotted running with Glassman in the area.

Let's suppose Trenk were actually living in Cave Creek.

That would mean he would have to get up mighty early to drive all the way down to Camelback Road to meet Glassman at 5 a.m. to go running.

Then, Trenk would presumably need to drive all the way back up to Cave Creek to shower and change before driving all the way back down to the Camelback corridor in downtown Scottsdale where the Rose Law Group is located.

While that may have been during the period of time Trenk was known to be living in Scottsdale, it isn't just a statutory requirement to be a resident of Cave Creek for at least one year prior to running for council, but a requirement for council members to reside in the town they are representing.

In any event, neighbors next door to the properties on Highland Road claim Trenk doesn't live in either one.

In early 2014, Trenk, was registered to vote at the home on Gunsight, despite the fact he had already sold the property in 2013.

Trenk recently sent out a lengthy missive addressed to "Everyone," claiming the current council, especially himself, has "accomplished some momentous things."

As one of those accomplishments, Trenk touted the town was ceasing to deliver potable water to Rancho Mañana Golf Course for irrigation purposes, which he stated "will drastically reduce the town's average gallons per day per resident, preserving our most precious resource."

Trenk simply parroted as an accomplishment what turned out to be a huge misunderstanding of the contract with the golf course by Town Engineer David Prinzhorn.

Rancho Mañana has never been provided potable water for the golf course irrigation. It has been provided treated effluent, untreated CAP water and water from the Vermeersch Well, which has arsenic levels so high it cannot even be blended for use as potable water.

Trenk doesn't appear to see anything wrong with signing a dead actor's name and fictitious address to his own recall petition or being a councilman and vice mayor of a town in which he doesn't reside.

Instead, he blames Sonoran News for the recall, which he calls "baseless."

Sonoran News will take all the blame there is for providing its readers with factual information as the community watchdog.

And, just so our readers know, Sonoran News isn't shunning Trenk and his fellow slate councilmen. They have been shunning the newspaper in a concerted effort to shut it down.

If voters have a problem with all the issues surrounding Trenk and his fellow slate councilmen, who also elevated him to the status of vice mayor and vote for all the frivolous resolutions he brings forward that pad council meeting agendas as well as his resume, ballots will be in the mail Feb. 12.