BY LINDA BENTLEY | JANUARY 21, 2015
Lewis, ASU and Carefree looking into town revitalization partnership
Cultural facility is key to his company launching a $40 million investment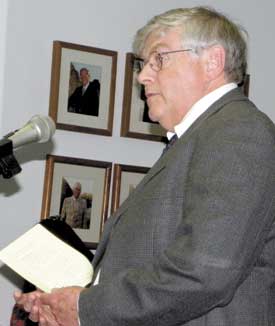 CAREFREE – Last Wednesday, town council held a special meeting to have Ed Lewis of Butte Properties, ASU University Art Museum Director Gordon Knox and ASU Senior Vice President Richard Stanley (r) make a joint presentation regarding the incorporation of a cultural arts attraction into the town center to make Ed Lewis' proposed mixed use development for town center viable.

Council chambers were packed with a standing-room only crowd made up primarily of Carefree residents plus a smattering of business owners.

Former councilman Bob Gemmill provided some background as to how the idea came about for a cultural center as a component to revitalize the town center before introducing Lewis, Knox and Stanley.

He said ASU has developed an interest in a cultural center and stated, "Ed Lewis and the town have been courting ASU, not the other way around."

However, Gemmill added, both ASU and the town need to do their due diligence and said the presentation was designed to bring the town up to speed.

Lewis said, "Today we have the start of a really good proposal for a luxury condo project for people who want a lock it and leave it lifestyle.

He said while Carefree's town center doesn't have car traffic because it's not on a main arterial street, it needs pedestrian traffic.

Lewis stated a cultural facility is key to his company launching a $40 million investment, to which he stated, "merchants agree."

Touting the proposal as a "historic opportunity," Lewis said he was willing to invest $40 million in the town, build a cultural center and sell it back to the town when completed at his cost.

The town would then lease the center to ASU for $1 per year.

Lewis said the cash the town has in the bank is not a good investment as he showed renderings of his proposed project that will include 15,000 square feet of retail and restaurants with covered parking under two stories of luxury condos and a second floor pool deck.

He said the town could pay for the facility with tax revenue it receives from sales of the condos and projects the town will make $7 million in tax revenue from the project over 20 years.

To include ASU as a potential partner, Lewis said money must come from private donations for operating costs via a pledge campaign that can raise $500,000 per year for the first five years.

Knox provided the town with information about the Herberger Institute for Design and the Arts, whose mission is "to position designers, artists, scholars and educators at the center of public life and prepare them to use their creative capacities to advance culture, build community and imaginatively address the most pressing challenges of today."

The institute includes the School of Art; the School of Art, Media and Engineering; the School of Film, Dance and Theater; the Design School; and the School of Music.

He said any kind of educational classes offered at the proposed cultural facility would not be for credit.

According to Stanley, ASU is prepared to move forward with the proposed project and would need to raise at least $250,000 in pledges by July to move forward.

Mayor David Schwan announced another special meeting was scheduled at 5 p.m. on Tuesday, Jan. 27 in order to hold a workshop for council to discuss the potential cultural enhancements for the town.