My View

BY DON SORCHYCH | JANUARY 21, 2015
Recall election
The vindictive firing of the Cave Creek Town Manager has resulted in a cost of $194,297.85 to date. That is what the town has paid to law firm Dickinson Wright (formerly Mariscal Weeks) since the suit was filed by Usama Abujbarah. The average cost per month, so far, is $10, 794.32. Of course, in addition, there is a possible liability of about $3 million.

Dickinson Wright is benefiting from their faulty advice that Usama has no case. They have an axe to grind with Usama who decreased their fee from an average of $25,000 a month to a flat rate of $7,500 a month.

If the slate-driven council had bought out Abujbarah's contract (of which there was about one year remaining), it would have cost the town only $120,000. With lawful termination of his contract, the town's obligation would have been for three months pay and severance pay of 5 months, only four months less ($40,000) than the cost of buying out his contract.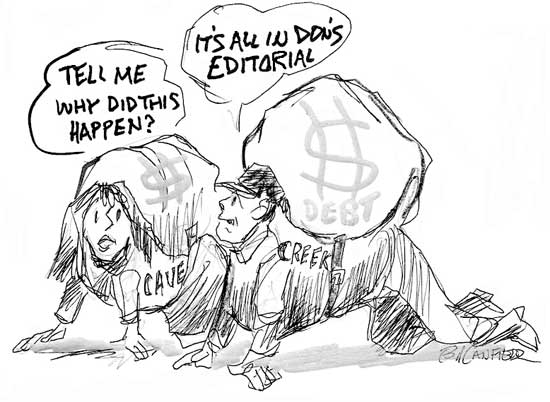 And furthermore Trenk is facing a federal lawsuit for First Amendment violations when he said Abujbarah could remain as town manager if he froze me and Sonoran News out. Not surprisingly Trenk recorded the conversation on his cell phone, but didn't tell Abujbarah. Trenk did the same thing in a secret meeting with Mayor Vincent Francia and claimed he did it because he didn't trust Francia.

Depositions reveal emails between Trenk and his slate and supporters. They show that discussions with Rodney Glassman who became Interim Town Manager for seven and one half months were started as early as February 2011, while Abujbarah was fired on June 10. Email between Glassman and the slate only were conducted followed by visits between Glassman and slate only members.

Although Town Clerk Carrie Dyrek should have been Interim Town Manager, Glassman, admittedly a friend of Trenk was hired by the slate.

Glassman was a disaster. Just ask now Town Manager Peter Jankowski who is living with hires and policies of Glassman.

One of the bragging points recall candidate Trenk uses is transparency. We have transparency now under Jankowski, but had none under Glassman. Glassman hired Patty Polnow supposedly to deal with town businesses and we have been a Cave Creek business for twenty years. We never had a visit or phone call until after publicizing her inaction with respect to Sonoran News even though she told Jankowski she had called on us. Never happened!

Furthermore, under Glassman's reign he dropped all association with Sonoran News in favor of a cheap advertising source at the Arizona Republic. The AR never was able to tell Cave Creek who got the ads. Sonoran News delivers all printed editions to residents. So the claim of transparency without Sonoran News is false. Glassman's seemingly unlimited expense account included lunches with AR reporter Phil Haldiman paid for by Glassman, which means paid for by tax payers.

The estimate of the cost of the Glassman reign is about $140,000 for seven and a half months, including benefits. The slate gave him a raise to match Abujbarah's salary even though he had a contract for considerably less and the slate extended his contract by a month and a half from six to seven and half months because he missed the schedule to hire a permanent town manager.

Trenk is an attorney but as far as I know he uses other attorneys to both do his dirty work and they did on Dick Esser and Susan Clancy and all the challengers who were getting petitions signed to run against the slate. The town is defending him in the Abujbarah lawsuit but he is on his own in the federal First Amendment case.

As a member of Rose Law Group he advertises himself as a lobbyist in equestrian matters, solar energy, marijuana and more.

Trenk had goals if he got elected:
He planned to have the town prosecutor report to the town manager with hire/fire authority. But the slate did something worse, it gave the local court to Carefree although that idea had been considered and rejected. It was a bad move by the slate.

He wanted to revise ordinances to have the chief financial officer report to council rather than the town manager. It is a stupid plan when the town manager is our form of government.

He leapt into a conflict of interest by convincing the slate to protect solar energy while that is what he supports and practices as an attorney.

He wanted a resolution to market the town, which is not the role of government.

He wanted the budget to reflect money to improve the rodeo grounds. People who profit from its use should pay for it – not Cave Creek.

Then he had a long list of committees he thought should be formed none of which were manifested.

Evaluate impact fees.

Audit everything.

Wants an incentive for "Shop Local." Why should that be a government function?

He indicts the past administration by asserting there was selective enforcement which harmed property owners and businesses. Prove it. I know of none.

Then he wants to market the town by PR stunts such as challenging Scottsdale for the title of "West's most western town." They tried that stupid stunt and it was silly, wrong and failed miserably.

The few things Trenk brags about pale in comparison to the cost and effect of his actions.
And last an aside. The court decision for the horse trail has been delayed again until February. Since I am a defendant in that lawsuit I spent three days in court recently.

You may recall that Eileen Wright was a slate candidate along with the other four slate members.

Jerry Freeman contributed $900 toward her campaign yet she lost. It appears that Wright came with the Freemans every day, sat behind Mrs. Freeman, spoke with her frequently and was with them wherever they went.

Since she was voted onto the planning commission I believe it is a serious conflict of interest. I asked Town Manager Peter Jankowski why he did not remove her from the commission for a conflict of interest but got no answer. I think he has the authority but he also has the knowledge of what the slate did to his predecessor.

Remember, four highly competent, independent, qualified and honest individuals, not a four person slate this time, are willing to serve the town. Please vote for Susan Clancy against the Trenkster, vote for Dick Esser against Reg Monochino, vote for Steve LaMar against Charles Spitzer and vote for Mark Lipsky against Mike Durkin.